The majority of cases of lower back pain are caused by muscle strain. And while a muscle strain may seem like a simple injury, you likely have first-hand experience in regards to the intense pain it can produce.
See Pulled Back Muscle and Lower Back Strain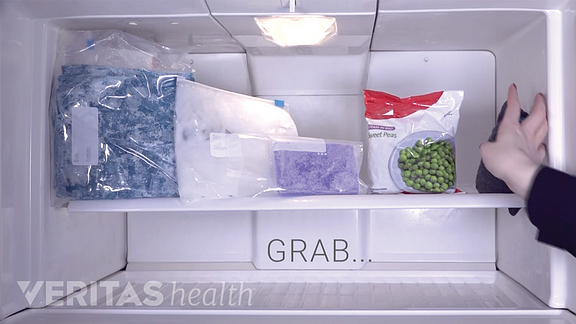 You can make ice packs with simple household items to help reduce the pain and inflammation experienced from neck and back strains. Watch:
Video: How to Make 5 Quick and Easy Ice Packs
Thankfully, a quick ice massage can provide significant relief from your injury in a short amount of time. Interested? Here is how to do it:
See Ice Massage for Back Pain Relief
How can an ice massage relieve your pain?
Before we talk about how to apply an ice massage, let's quickly look at the ways in which an ice massage can relieve your lower back pain.
See Lower Back Pain Symptoms, Diagnosis, and Treatment
This list is not exhaustive, but an ice massage may be able to provide the following benefits for people suffering from muscle strain:
Reduce your inflammation and swelling
Numb your sore tissues
Inhibit your nerve impulses
Loosen your tight lower back muscles
See Ice Packs for Back Pain Relief
Ice massage therapy can be used in isolation, but it is typically combined with other treatments like pain medications.
See Back Pain Medication Overview: Understanding Medication for Back Pain Relief
How to apply an ice massage
There are only three things you need for an ice massage: a paper cup, water, and an arm. Begin by freezing the water in a paper cup, and then you can peel away the top inch to expose the ice.
Watch Video: How to Make an Ice Massage Applicator
After the top inch is peeled away, you can follow these simple steps:
Lie on your side, and place a pillow under your head for comfort.
With gentle force, rub the frozen cup in a circular motion around the location of your pain. Focus on one six-inch area at a time.
Do your best to avoid applying the ice massage to your spinal column.
Do not apply the massage for longer than 5 minutes. Any longer than this and you run the risk of ice burns.
The goal of an ice massage is to numb the area around where your pain is located. And while you can't exceed a 5-minute massage, you can repeat the massage process 2-5 times a day, as needed.
See How to Use Ice Massage Therapy for Back Pain
As a final note, an ice massage for your lower back is most effective if you apply is as quickly as possible after your injury occurs. And if an ice massage isn't for you, you can try simpler options like a bag of ice wrapped in a towel.
See Ice Packs for Back Pain Relief
Learn more:
Lower Back Pain Symptoms and Causes