Meet Dr. Amir H. Fayyazi
Dr. Fayyazi received his undergraduate degree in Biomedical Engineering from John Hopkins University in Baltimore. He completed his medical training at Washington University School of Medicine in St. Louis and his residency in orthopedic surgery at Penn State/Milton S. Hershey Medical Center. Dr. Fayyazi completed a fellowship in spine surgery at RUSH University Medical Center in Chicago and has been certified by the American Board of Orthopaedic Surgery.
He has served as an assistant professor at SUNY Upstate Medical Center in Syracuse, NY and is an active member of multiple professional organizations including American Academy of Orthopaedic Surgeons, Cervical Spine Research Society, and North American Spine Society.
Dr. Fayyazi has extensive experience in treatment of traumatic spinal injuries, spinal deformity, and degenerative conditions of cervical, thoracic and lumbar spine, including field of motion preservation. He has spoken and presented nationally and internationally on countless times, conducted clinical research, and been published for his expertise.
When not caring for patients he enjoys spending time with his wife and two sons.
Dr. Amir H. Fayyazi is part of the team that makes up Spine Center of Excellence at OAA Orthopaedic Specialists.
Directions to our primary location in
How Dr. Amir H. Fayyazi Can Help You
Conditions
Back Pain
Cervical Spine Disorders
Complex Spinal Disorders
Degenerative Disc Disease
Degenerative Spinal Conditions
Herniated Disc / Bulging Disc
Kyphosis
Low Back Pain
Lumbar Spine Disorders
Myelopathy
Neck Pain
Sciatica / Radiculopathy
Scoliosis and Deformity
Spinal Stenosis
Spine Conditions
Spine Injuries
Spondylolisthesis
Thoracic Spinal Disorders
Trauma
Tumors
Treatments
Anterior Lumbar Interbody Fusion (ALIF)
Artificial Disc Replacement
Disc Arthroplasty
Endoscopic Microdiscectomy
Epidural Steroid Injections
Facet Joint Injections / Blocks
Laminectomy / Decompression Surgery
Lateral Lumbar Interbody Fusion (XLIF)
Microdiscectomy
Minimally Invasive Surgery
Neck / Cervical Spine Surgery
Non-Surgical Treatment and Diagnosis
Pain Management
Physical Therapy
Reconstructive / Revision Spine Surgery
Scoliosis Surgery
Spinal Fusion
Spine Surgery
Vertebroplasty / Kyphoplasty
What Patients are Saying About Dr. Amir H. Fayyazi
This was my third orthopaedic doctor. My first doctor was quite ominous, the second didn't even examine me nor did he take the time to explain a particular procedure I was researching, but doctor Fayaazi was neither. He took his time in all areas, both in the physical and explanation. I was so glad, as his emphasis on my back being healed helped me to have a whole different outlook which has helped facilitate that healing. Thank you!

— F.R.

I am very pleased with Dr. Fayazzi and he made me feel at ease right away. Taking the time for your patients is a good thing and he does that. I put my trust in his hands that he takes good care of me whenever needed and so far I only can say that I absolutely made the right decision. If you read this I would definitely recommend to see this great doctor.

— Marcus

I recently visited Dr. Fayyazi for my one year check up after my neck fusion. I am pain free! Needless to say, I love OAA and tell everyone to see Dr. Fayyazi!

— Regina
Accolades for Dr. Amir H. Fayyazi
Professional Distinctions
Fellowship, Spine Surgery - Rush-Presbyterian, St. Luke Medical Center, Chicago, IL
Professional Affiliations
American Academy of Orthopaedic Surgery
Cervical Spine Research Society
North American Spine Surgery
International Society for Advancement of Spine Surgery
Pennsylvania Orthopaedic Society
Board Certifications
Board Certified, American Board of Orthopaedic Surgery
Office Information for Dr. Amir H. Fayyazi
Primary Location: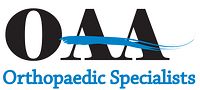 250 Cetronia Road
Allentown, PA 18104
Hours
Monday: 08:00 - 05:00
Tuesday: 08:00 - 05:00
Wednesday: 08:00 - 05:00
Thursday: 08:00 - 05:00
Friday: 08:00 - 05:00
OAA Orthopaedic Specialists' Website
Visit the OAA Orthopaedic Specialists' Facebook Page
Insurance Accepted
Accepts Most Insurance Plans
Profile last updated: August 31, 2016. This information was supplied by or on behalf of the provider.