Welcome, Friend!
It looks like you're new here. If you want to get involved, click one of these buttons!
In this Discussion
Veritas-Health LLC has recently released patient forums to our Arthritis-Health web site.
Please visit
http://www.arthritis-health.com/forum
There are several patient story videos on Spine-Health that talk about Arthritis. Search on Patient stories
Protect anonymity
We strongly suggest that members do not include their email addresses. Once that is published , your email address is available to anyone on the internet , including hackers.


Notice
All discussions and comments that contain an external URL will be automatically moved to the spam queue. No external URL pointing to a medical web site is permitted. Forum rules also indicate that you need prior moderator approval. If you are going to post an external URL, contact one of the moderators to get their approval.
Attention New Members
Your initial discussion or comment automatically is sent to a moderator's approval queue before it can be published.
There are no medical professionals on this forum side of the site. Therefore, no one is capable or permitted to provide any type of medical advice.
This includes any analysis, interpretation, or advice based on any diagnostic test
Crushed T9 and more damage
I introduced myself a couple months ago.
http://www.spine-health.com/forum/new-member-introductions/48-year-old-and-a-bicycle-crash
And figured here was a better place.
I saw my surgeon again November 29th. We discussed limitations and absolute don't do items. Weightlifting as I can tolerate, but NO high impact activities, specifically no Mountain Biking, or aggressive ATV riding and NO running or jogging. But she allowed me to remove my cervical collar. If you've never had one for any length of time, you'd be surprised how heavy your head feels once its off. I certainly was. Almost 7 weeks later I feel my neck is strong again, but still quite stiff, and due to the occipital condyll avulsion, I have less Range of Motion turning right, than left. My Physical Therapist is working on it. But I may never have full ROM. And I may always have a stiff neck.
Two weeks ago my therapist changed my routines. I'm able to get in the gym again and can work on lower body conditioning and strengthening on my own. Since I'm in the gym, I double check every exercise with my therapist before proceeding. So far he has only approved about 20% of what I've asked to try. And so far, everything is very low weight. I'm in NO hurry. I see the surgeon again in March, and then August. Considering everything that rides on my future, is borne on my recovery, I'm doing absolutely NOTHING the surgeon or therapist says no to. I pushed a LOT with my knee recovery. And got away with it. I don't even want to think about how bad things can go if I mess this up.
I know how lucky I am. And continue to be. Here are some pics of the spinal damage and hardware. I'm not smart enough to see the damage in the neck pics...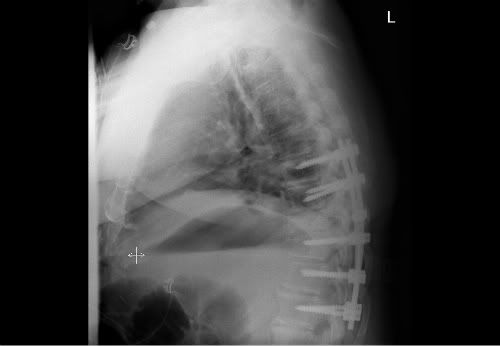 You can see the bridge between the rods is where the T9 is. It wasn't solid enough for screws. I fully sympathize with those that aren't having as much luck with healing as I have had.
I started a blog,
http://theguythatbrokeeverything.blogspot.com/
, because my friends think I should. I don't think I'm anyone special, but others do. I'm only too glad to share.