Hey there, folks! I've read a few of the forum posts here, and a number of you have some good input on matters like this.
Let me start at the beginning and give you a little background. I can fill in more details if you need them. I'm a 33 year old male. About 3 years ago I managed to injure myself playing tennis. Lunged sideways for a ball, and had a shooting pain down my right leg. Walking 5 or 6 steps and the pain would shoot down it again. If I concentrated, I could unclench muscles and walk again. I stayed off it for a day or two, and then begin about a 2-3 week recovery, ending with no lingering issues.
A year later, I was sitting on the couch, leaned forward to get up, and bam, same thing. I applied the same treatment and things got better. No issues again.
Now, October of 2013, it recurred, this time while leaning over the sink. Felt nauseas, laid down for a moment, and when I get up, it was back. Applying the same idea as before, I waited a few weeks and it started to go away. Alas, about when it was getting better, it came back.
So, having figured it was more than just a simple issue that would work itself out, I went to see a chiropractor. He did a number of adjustments up and down my spine between mid October and December. After which, he said I was good to go and that all future adjustments would be 'maintenance' visits. I still had some occasional pain in the saddle area, occasional twinges in the right testicle, and the odd 'ghost' feeling in my right leg. Nothing really painful, just obnoxious. He said I would always have degenerative pain, and to get used to it. I didn't believe that was true.
So, I went to see a spine specialist. He prescribed some PT which I started the following day. Two days after that, I felt really nauseas and my neck hurt. I felt miserable, so asked the doctor about it. They gave me some anti-inflammatories and said to go to my general doc to make sure it wasn't a stomach issue. I went to visit them, and it wasn't.
I did get a referral to an orthopedic spine doctor who ordered some MRI's. The neck seemed to be fine, likely the result of a sprain or strain of some kind. That seems to be getting better. The devastating news was that I had a L4/L5 disc herniation. Picture below, that shows right of center spine (I have the rest of the images if it helps).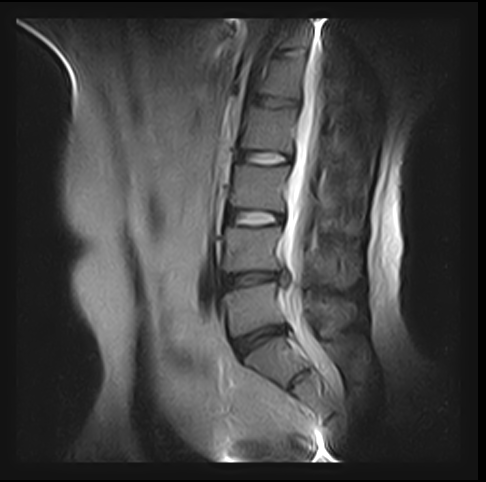 It's not really bothering me to the point of pain, it just is mildly distracting and the ghost feeling is a little scary. All of it comes and goes, so none of it really seems to stick around permenantly. There's some small discomfort laying down with my back angled upward, or sitting up, but again, it's not awful. Just annoying.
My orthopedic doctor seems to be leaning toward a microdiscectomy, but I'm not sure I really need one since the pain is so minor. But, on the other hand, I don't want to wait 2 years to find out I'll need it anyway, but because I waited so long it's unlikely to help.
So, my questions to you folks are this: What are my conservative treatment options? I'm already seeing a PT guy, but I'd like to make sure he's got me on the right track to deal with this. I'm considering asking him about traction to see if that would help the disc reduce some. I'm also considering talking to a Chiro that specializes in Cox technique as well, and see if that might help. I understand both are a form of decompression therapy, but I'm willing to look elsewhere too. My insurance covers up to 25 chiro visits a year at 10% copay. So the cost isn't too high, so long as the treatment doesn't take more than 25 visits. PT, seems to have no limit.
I'm pretty flexible in what work I can miss to go to PT sessions, and I'm willing to do 4-5 sets of exercises a day (at home) as well as anything I can to avoid surgery. Even though it's a minimally invasive sort of thing, the 3-6 month recovery time sounds awful, never mind the 2 weeks of post-surgery pain. I'm also not sure surgery will leave me better off than I was before, as right now it's not too bad.
That leaves me wondering if I have any further options to help this go away. I'd love to hear some advice, since this is all still very new to me. It's got me a little scared, depressed, and a whole host of other emotions I almost never express.
And lastly, about when should I consider surgery an option? Some people say 'It's never an option unless the pain impacts your life significantly'. I'm not there right now, but I obviously don't want to wait until it won't help any either. Dealing with long recovery times for nerve damage doesn't sound appealing if it can be caught earlier.
My current plan is to hit as much PT, exercise, stretching, and conservative treatment as possible between now and around may. If the symptoms aren't gone by then, perhaps surgery would be an option. I'm not sure if that seems reasonable or not, given the minor impact of the issue, but as I said I'm concerned about long term damage.
Thanks for any advice you can provide. It's very much appreciated. If there's a better forum to post this in, please let me know and I'll either repost or a moderator can feel free to move it.