Ron has been a moderator in our forums for 8 years, and today he's sharing one of his special recipes: French onion soup.
Ron admits he's an avid chef, and he enjoys more complicated dishes. This version of French onion soup is an adaptation he's made that allows him to cook without aggravating his own back pain.
See also Food for Thought: Diet and Nutrition for a Healthy Back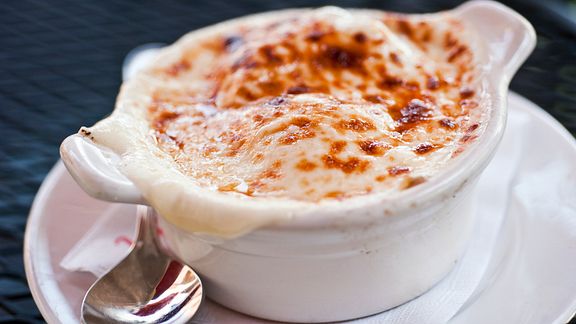 Save
Ron's cooking tips
Before getting to the recipe, here are some of Ron's tips for cooking when you have back pain:
Shop at a grocery store that helps load the groceries
Or, better yet, have your groceries delivered
Make meals that require time up front but can then slow cook
Prepare most ingredients while sitting comfortably at the table
Have all needed ingredients within easy reach
Keep a garbage pail right by the stove
Keep a small stool by the stove so that both feet are not always on the ground
Have a glass of wine for the cook
Get help lifting any heavy pieces off the stove or out of the oven
Ron's French Onion Soup Recipe
Total time: 3 hrs 25 minutes, which includes about 45 minutes of standing
Ingredients:
5 lbs onions (a combination of American Yellow and Vidalia)
2 tablespoons butter or oil
1/4 cup sugar
1/8 cup cognac
10 cups beef broth
Salt and pepper
French bread, toasted
Gruyère cheese
Parmesan cheese
Cream sherry (optional)
Method:
Slice the onions while sitting comfortably at a table. Sauté the sliced onions in the butter or oil for 15 minutes. Add sugar, salt, and pepper, and sauté at a higher temperature for about 45 minutes until onions caramelize. (Ron only needs to go to the stove every 8-10 minutes during this time. Otherwise, he takes a seat and enjoys his glass of wine.)
After the onions are slightly amber, add flour and turn heat to low, stirring occasionally for 15 minutes. Slowly add the cognac and flambé the mixture.
Finally, add the broth, salt and pepper to taste, and cover and simmer for 2 hours. Ron recommends serving the soup the next day, after the onions and broth have had time to soak together.
If you are serving the soup immediately, preheat the oven to 375 degrees Fahrenheit about 15 minutes before the soup is done.
Before serving, remove some of the onions from the broth and prepare each individual bowl: fill the bowls with soup, and place toasted bread and generous amounts of Gruyère and Parmesan cheese on top. Bake at 375 for 15 minutes.
If you do not have a soup dish that can bake in the oven, Ron recommends using two or three smaller pieces of toast, and microwaving individual bowls until the cheese on top melts.
Pair with a light Pinot Noir or a fuller low-oaked Chardonnay.
Note: Depending on the type of onions you use, you may need to add a little Cream Sherry before serving. Ron uses a combination of the standard American Yellow onions along with the sweeter Vidalia onions.
Let us know if you try this recipe and how it turns out! Happy cooking!