A recent report in the New England Journal of Medicine chronicles an unusual case of Occult Spinal Dysraphism in a three-year-old Taiwanese girl. The patient was initially referred to the doctor for removal of excess hair on the lower back. She was promptly diagnosed with a group of spine malformations.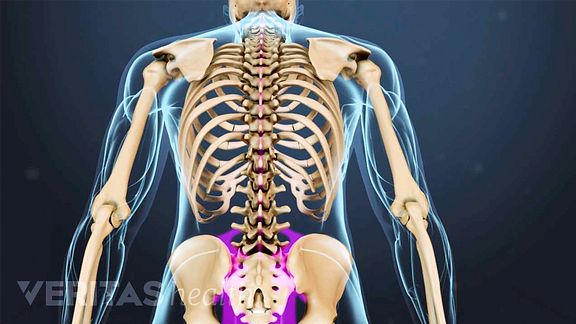 Save
Diagnosis of occult spinal dysraphism
The child was treated for leaking spinal fluid at four days old. She had additional surgery at seven months old to repair "other spinal abnormalities," according to the report.
At age three, she was referred for removal of the excess hair patch present since birth purely for cosmetic reasons ( Click for image).
It was during that examination and additional testing the child was diagnosed with occult spinal dysraphism also known as "split spinal cord."
Read about the anatomy of the Spinal Cord and Spinal Nerve Roots
She also had a fluid-filled cyst in the spinal cord, called syringomyelia. Additionally, some of her spinal fluid was leaking out onto the skin surface, according to the New England Journal of Medicine report.
Occult spinal dysraphism is a group of spine malformations that are generally hidden from the surface, except for skin markings that may initially appear to be unrelated.
These malformations usually involve a variety of body structures such as nerves, muscle, skin and bones, which is why markings often appear on the surface of the skin. Approximately 80 percent of children with occult spinal dysraphism have some type of skin marking and it is about twice as common in female children compared to male children.
Potential complications from occult spinal dysraphism
If not treated as a child, occult spinal dysraphism can result in musculoskeletal deformities, tethering of the spinal cord, and possible neurological and bladder/bowel function issues. The condition was completely asymptomatic in the child.
Read more in our Spinal Deformities Health Center
In the case of the Taiwanese child, after her surgery she did not have any incontinence, difficulty walking or developmental issues, according to researchers from National Taiwan University Hospital.
The child's parents were told she could have laser hair removal when she is "old enough to cooperate with the procedure."
For further reading: Potential Causes of Back Pain in Children and Teens
In This Article:
Unusual Spine Case Series: Occult Spinal Dysraphism
References
Chiu, H.-Y., & Liao, Y.-H. (2014). Occult Spinal Dysraphism. New England Journal of Medicine, 370(5), 466–466. doi:10.1056/NEJMicm1308004.