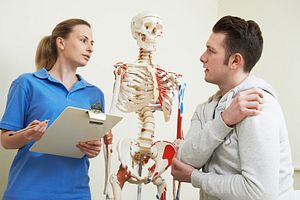 The goal of a clinical trial is to test the safety and efficacy of new drugs and medical devices before they are released to the general public.
To help patients researching or enrolling in a clinical trial, we have compiled a combination of information resources and clinical research studies actively recruiting patients for conditions related to back pain, neck pain and leg pain.
Featured Clinical Trial
Spine surgery centers in the U.S. are accepting new participants for the Simplify Trial.
The study is for Simplify Disc, a non-metallic, MRI-compatible cervical artificial disc and an investigational device. Simplify Disc provides potential benefits including:
Designed for MRI
Designed to minimize ionizing radiation from CT scans
Designed to eliminate metal wear
Designed for a broader range of patient sizes
To see if you qualify, fill out our online questionnaire.
* Caution: This is an investigational device. Limited by United States law to investigational use.
Featured Research/Technology
Clinical Trials FAQ
What is a clinical trial?
A clinical trial is research using human volunteers to answer a specific health question. For example, "does this new treatment provide more pain relief than a currently used treatment?"
Why participate in a trial?
For eligible participants, a clinical trial can provide access to new back pain treatments before they are commercially available and access to physicians at leading health care facilities during the trial. Risks include: ineffective treatment and possible mild to severe side effects of the experimental treatment.
Am I a candidate?
Each clinical trial listed here includes specific inclusion criteria (that allow someone to participate) and exclusion criteria (that disallow someone from participating). Interested individuals should carefully review these basic requirements before contacting a physician or center participating in a particular clinical trial.