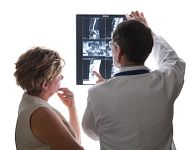 Your doctor has access to a variety of tests performed during physical examination that may help reveal the SI joint as the cause of your symptoms. In addition, X-rays, CT-scan or MRI can be helpful in the diagnosis of SI joint-related problems. It is also important to remember that more than one condition (like a disc problem) can co-exist with SI joint problems.
The most relied upon method to determine whether the SI joint is the cause of your low back symptoms is to inject the SI joint with a local anesthetic. Your surgeon or other health care professional will deliver the injection with either fluoroscopic or CT guidance to verify accurate placement of the needle into the SI joint. If, following the injection, your pain is decreased a significant amount, it may be concluded that the SI joint is either the source, or a major contributor, to your low back pain. If your symptoms don't change after the SI joint injection, it is less likely that the SI joint is the cause of your low back pain.
If your low back symptoms are SI joint in origin, ask your doctor about non-surgical and minimally invasive surgical (MIS) options to determine what is right for you.
Click here
to receive a free information kit (including a doctor discussion guide) and to find a surgeon trained in the iFuse procedure.
Request your FREE Kit
This information is not intended to take the place of a doctor's advice. The iFuse Implant System® is intended for sacroiliac fusion for conditions including sacroiliac joint dysfunction that is a direct result of sacroiliac joint disruption and degenerative sacroiliitis. This includes conditions whose symptoms began during pregnancy or in the peripartum period and have persisted postpartum for more than 6 months. There are potential risks associated with the iFuse Implant System. It may not be appropriate for all patients and all patients may not benefit. For information about the risks, click here.