The following is a Sponsored Resource. The sponsor of this content has sole editorial control.
Discover the power of personalized pain relief
Because your pain is profoundly personal, you are more likely to find lasting relief with a solution that can be personalized to your unique pain.
Boston Scientific's pain management solutions have helped thousands of people find relief from pain—even when other therapies have failed.
Take the Pain Quiz
Proven pain management solutions
These drug-free, FDA-approved Boston Scientific solutions are clinically proven to be effective in relieving chronic pain:
Spinal Cord Stimulation (SCS)
SCS therapy uses an implanted device to deliver mild electrical impulses that interrupt pain signals your nerves send through your spinal cord. This may help prevent you from perceiving the pain.
Relieves chronic pain in:
• Lower back • Legs • Feet
95% Boston Scientific SCS patients would recommend it to others.1
Vertiflex™ Procedure‡
This minimally invasive outpatient procedure uses a small spacer to relieve pain associated with moderate lumbar spinal stenosis (LSS).
Relieves chronic pain in:
• Lower back • Legs • Groin and buttocks
9/10 patients are satisfied with the Vertiflex Procedure for lumbar spinal stenosis relief.2,*
Treating chronic pain with Spinal Cord Stimulation (SCS)
You feel pain when nerves send pain signals through your spinal cord to your brain. SCS is designed to interrupt these signals so you don't perceive pain.
Find Your Relief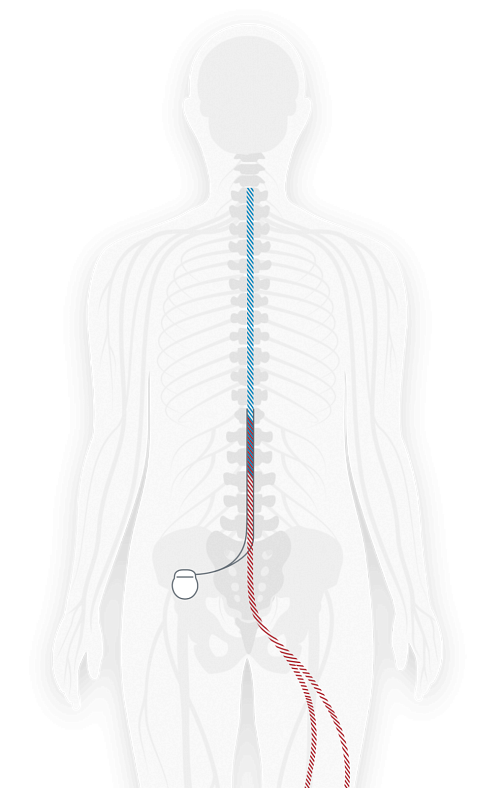 How SCS works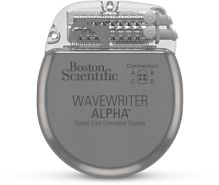 Stimulator A small device called a spinal cord stimulator is implanted under the skin.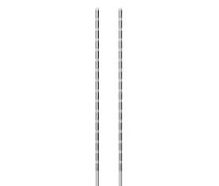 Leads Thin, flexible "leads" are connected to the stimulator and placed near specific nerves along the spinal cord.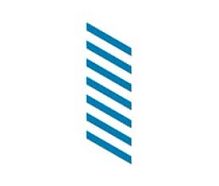 Pulses The stimulator sends mild pulses through the leads to the nerves.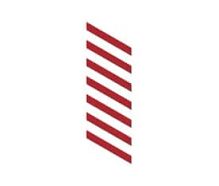 Pain The pulses interrupt the pain signal on the way to the brain.
SCS from Boston Scientific:
Multiple therapies. One device.
There are different kinds of SCS therapies.
Some therapies replace your pain with a tingling sensation. Others use a type of stimulation you don't feel at all.
With Boston Scientific, you can choose the therapy that works best for you—or use both at the same time.
The ability to deliver multiple therapies simultaneously* is unique to Boston Scientific SCS Systems and has been clinically proven to provide greater pain relief.3
In a clinical study, patients using Boston Scientific's SCS therapies reported a greater improvement in their ability to do everyday activities† than patients in other studies using non-Boston Scientific SCS Systems.4,5,6
The power of addressing lumbar spinal stenosis with the Vertiflex Procedure
Lumbar spinal stenosis (LSS) is typically caused by tissue or bone thickening in the spine over time due to normal wear-and-tear as you age. This results in a narrowing in the space in the lumbar (or lower) spine where the nerves pass through. The narrowed space pinches the nerves and can cause pain or discomfort in the back, legs or feet. The Vertiflex Procedure is an FDA approved solution that is clinically proven to provide long-term relief for LSS.
Find Your Relief
How the Vertiflex Procedure Works
The Vertiflex Procedure uses a small spacer that is placed in the spine targeting the root cause of lumbar spinal stenosis in between the spinous processes. The device is intended to keep the space where the nerves pass open in order to reduce or eliminate the pain or discomfort caused by the pinching of the nerves. The procedure does not require general anesthesia, has a minimal recovery time, and is covered by Medicare.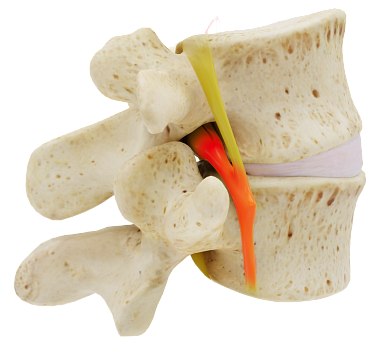 Vertebra with Stenosis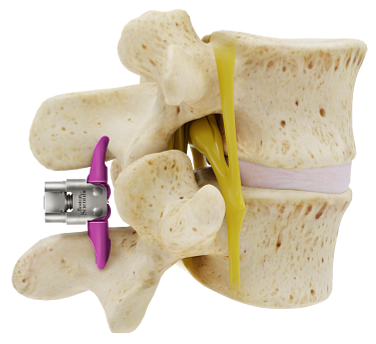 Vertebra with Veritflex Spacer
Cognita™ Care: Learn, Connect, and Thrive
At Boston Scientific, we're committed to helping you manage chronic pain so you can get back to living life to the fullest. That's why we created Cognita Care, with personalized support and innovative tools to help you find effective, long-term pain relief.
Connect with Us to Learn More About Cognita™ Care
Personalized support. Long-term relief.
Finding long-term relief from chronic pain is a journey that begins with learning about different solutions that might be right for you, and then connecting with specialists who can help. Cognita Care helps make that journey easier, with cutting-edge digital tools and in-person services to help you find effective long-term solutions for your personal pain.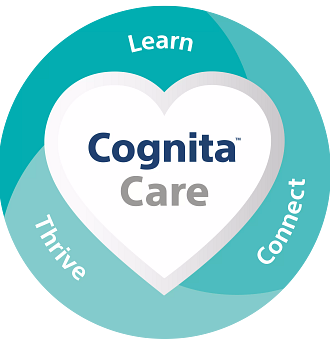 Learn
Learn about your therapy options

Connect
Connect with specialists who can help you find lasting pain relief

Thrive
Access resources so you can continue to thrive
‡Superion™ Indirect Decompression System
**Study completers
*Paresthesia-free stimulation has been shown to be safe and effective in patients who have been treated successfully with paresthesia-inducing stimulation for at least 6 months.
†As measured by the Oswestry Disability Index at 3 months post implant.
Thomson SJ, Kruglov D, Duarte RV. A spinal cord stimulation service review from a single centre using a single manufacturer over a 7.5 year follow-up period. Neuromodulation. 2017;20(6):589-599. N=321
Nunley PD, Patel VV, Orndorff DG, Lavelle WF, Block JE, Geisler FH. Five-year durability of stand-alone interspinous process decompression for lumbar spinal stenosis. Clin Interv Aging. 2017;12:1409-1417. N=88
North, James, MD. WHISPER: A Multicenter, Prospective Randomized Controlled Trial Evaluating Subperception SCS at ≤ 1.2 kHz. Presentation at North American Neuromodulation Society (NANS), Las Vegas, NV, January 11-14, 2018. (N=70)
Wallace M. et al. Outcomes of a Prospective Randomized Controlled Trial Utilizing a Spinal Cord System Capable of Multiple Neurostimulation Modalities (COMBO). NANS Annual Meeting. January 2020 (N=89)
Kapural, Cong Yu, et al. Novel 10-kHz High-frequency Therapy (HF10 Therapy) Is Superior to Traditional Low-frequency Spinal Cord Stimulation for the Treatment of Chronic Back and Leg Pain: The SENZA-RCT Randomized Controlled Trial. Anesthesiology 2015; 123:851 -860
Deer, Timothy, et al. Success Using Neuromodulation With BURST (SUNBURST) Study: Results From a Prospective, Randomized Controlled Trial Using a Novel Burst Waveform. Neuromodulation: Technology at the Neural Interface. 21. 10.1111/ner.12698
Results from clinical studies are not predictive of results in other studies. Results in other studies may vary.
Indications for Use. The Boston Scientific Spinal Cord Stimulator Systems are indicated as an aid in the management of chronic intractable pain of the trunk and/or limbs including unilateral or bilateral pain associated with the following: failed back surgery syndrome, Complex Regional Pain Syndrome (CRPS) Types I and II, intractable low back pain and leg pain, Diabetic Peripheral Neuropathy of the lower extremities. Associated conditions and etiologies may be: radicular pain syndrome, radiculopathies resulting in pain secondary to failed back syndrome or herniated disc, epidural fibrosis, degenerative disc disease (herniated disc pain refractory to conservative and surgical interventions), arachnoiditis, multiple back surgeries.
Contraindications. The Spinal Cord Stimulator systems are not for patients who are unable to operate the system, have failed trial stimulation by failing to receive effective pain relief, are poor surgical candidates, or are pregnant.
Boston Scientific's ImageReady™ MRI Technology makes safe MRI head scans possible. Patients implanted with the Precision Spectra™ or Spectra WaveWriter™ Spinal Cord Stimulator Systems with ImageReady™ MRI Technology are ""MR Conditional"" only when exposed to the MRI environment under the specific conditions defined in the applicable ImageReady™ MRI Head Only Guidelines for Precision Spectra™ or Spectra WaveWriter™ Spinal Cord Stimulator Systems.
Boston Scientific's ImageReady™ MRI Full Body Technology makes safe MRI scans possible. The Precision Montage™ MRI, WaveWriter Alpha™ and WaveWriter Alpha™ Prime SCS Systems with ImageReady™ MRI Full Body Technology are "MR Conditional" only when exposed to the MRI environment under the specific conditions defined in the applicable ImageReady™ MRI Full Body Guidelines for Precision Montage™ MRI or WaveWriter Alpha™ and WaveWriter Alpha™ Prime Spinal Cord Stimulator Systems.
Warnings. Patients implanted with Boston Scientific Spinal Cord Stimulator Systems without ImageReady™ MRI Technology should not be exposed to Magnetic Resonance Imaging (MRI). Exposure to MRI may result in dislodgement of the stimulator or leads, heating of the stimulator, severe damage to the stimulator electronics and an uncomfortable or jolting sensation. As a Spinal Cord Stimulation patient, you should not have diathermy as either a treatment for a medical condition or as part of a surgical procedure. Strong electromagnetic fields, such as power generators or theft detection systems, can potentially turn the stimulator off, or cause uncomfortable jolting stimulation. The system should not be charged while sleeping. The Spinal Cord Stimulator system may interfere with the operation of implanted sensing stimulators such as pacemakers or implanted cardiac defibrillators. Advise your physician that you have a Spinal Cord Stimulator before going through with other implantable device therapies so that medical decisions can be made and appropriate safety measures taken. Patients using therapy that generates paresthesia should not operate motorized vehicles such as automobiles or potentially dangerous machinery and equipment with the stimulation on. Stimulation must be turned off first in such cases. For therapy that does not generate paresthesia (i.e. subperception therapy) it is less likely that sudden stimulation changes resulting in distraction could occur while having stimulation on when operating moving vehicles, machinery, and equipment. Your doctor may be able to provide additional information on the Boston Scientific Spinal Cord Stimulator systems. For complete indications for use, contraindications, warnings, precautions, and side effects, call 866.360.4747 or visit Pain.com. Caution: U.S. Federal law restricts this device to sale by or on the order of a physician.
Indications for Use: The Superion™ Indirect Decompression System (IDS) is indicated to treat skeletally mature patients suffering from pain, numbness, and/or cramping in the legs (neurogenic intermittent claudication) secondary to a diagnosis of moderate degenerative lumbar spinal stenosis, with or without Grade 1 spondylolisthesis, having radiographic evidence of thickened ligamentum flavum, narrowed lateral recess, and/or central canal or foraminal narrowing. The Superion™ Interspinous Spacer is indicated for those patients with impaired physical function who experience relief in flexion from symptoms of leg/buttock/groin pain, with or without back pain, who have undergone at least 6 months of non-operative treatment. The Superion Interspinous Spacer may be implanted at one or two adjacent lumbar levels in patients in whom treatment is indicated at no more than two levels, from L1 to L5. Contraindications, warnings, precautions, side effects. The Superion Indirect Decompression System (IDS) is contraindicated for patients who: have spinal anatomy that prevent implantation of the device or cause the device to be unstable in situ (i.e., degenerative spondylolisthesis greater than grade 1), Cauda equina syndrome, or prior decompression or fusion at the index level, scoliosis or spinous process fractures, osteoporosis, infection, allergy or reaction to any metal or implant or a high Body Mass Index. Avoid strenuous activity for 6 weeks after surgery, contact your physician if there is fluid leaking from your incision, if you have pain, swelling or numbness in your legs or buttocks or if you fall. Refer to the Instructions for Use provided on www.vertiflex.com for additional Indications for Use, contraindications information and potential adverse effects, warnings, and precautions prior to using this product. Caution: U.S. Federal law restricts this device to sale by or on the order of a physician.
Indications for Use: The Boston Scientific Radiofrequency Generators, associated Radiofrequency Lesion Probes and RF Cannula are indicated for use in procedures to create radiofrequency lesions for the treatment of pain or for lesioning nerve tissue for functional neurosurgical procedures. The Boston Scientific RF Injection Electrodes are used for percutaneous nerve blocks with local anesthetic solution for radiofrequency lesioning of peripheral nerve tissue only. The Boston Scientific LCED and Stereotactic TCD Electrodes are indicated for use in radiofrequency (RF) heat lesioning of nervous tissue including the Central Nervous System.
Warnings: The Boston Scientific RF devices may cause interference with active devices such as neurostimulators, cardiac pacemakers, and defibrillators. Interference may affect the action of these active devices or may damage them. For appropriate guidance, consult the instructions for use for these active devices. Caution: U.S. Federal law restricts this device to sale by or on the order of a physician.
All trademarks are the property of their respective owners.
Copyright © 2023 by Boston Scientific Corporation or its affiliates. All rights reserved.