Meet Dr. Larry M Parker, MD
Dr. Larry M. Parker is a leader in treating cervical, thoracic and lumbar disorders of the spine. He has extensive clinical expertise and experience in advanced surgical techniques, and works to find you the best individual treatment plan.
Dr. Larry Parker at a Glance:
Can perform many types of spine surgeries including artificial disc replacement and spinal fusion.
Will perform laparoscopic and endoscopic surgeries when that is the best choice for the patient.
Is dedicated to patient education.
Dr. Parker does not approach medicine or surgery as "one size fits all." He will work with you to figure out the best treatment for your individual circumstance.
Doctor Quote
Getting feedback that I've helped patients creates a sense of satisfaction. It's why I come to work every day.
Directions to our primary location in
How Dr. Larry M Parker, MD Can Help You
Specialties
Years in Practice
Education
Univeristy of Alabama - Birmingham, Cum Laude 1989
Residency, Orthopaedic Surgery, Emory University
Fellowship: Spinal Reconstructive Surgery, St. Joseph Hospital, Baltimore, 1995
Conditions
Carpal Tunel Syndrome
Cervical Spine Disorders
Coccydynia
Degenerative Disc Disease
Degenerative Spinal Conditions
Foot Drop
Herniated Disc / Bulging Disc
Kyphosis
Low Back Pain
Lumbar Spine Disorders
Muscle Pain / Muscle Strain
Neck Disorders
Neck Pain
Osteoporosis
Sciatica / Radiculopathy / Leg Pain
Spinal Stenosis
Spondylolethesis
Thoracic spine disorders
Upper Back Pain
Treatments
ALIF: Anterior Lumbar Interbody Fusion
Anterior / Posterior Lumbar Fusion
Anterior Cervical Corpectomy
Anterior Cervical Discectomy and Fusion
Bone Graft Substitutes
Bracing
Cervical Disc Replacement
Epidural Steriod Injections
Kyphoplasty / Vertebroplasty
Laminectomy
Lateral Lumbar Interbody Fusion
Lumbar Microdiscectomy
Microdiscectomy
Neck / Cervical Spine Surgery
PLIF: Posterior Lumbar Interbody Fusion
Physical Therapy
Posterior Cervical Foraminotomy
Posterolateral Lumbar Fusion
Spinal Fusion
TLIF: Transforaminal Lumbar Interbody Fusion
What Patients are Saying About Dr. Larry M Parker, MD
After surgery, I was able to do anything that I wanted to do...without pain medication.

— T.J.

I couldn't walk but a few hundred feet without stopping to gather myself.

— C.S.

When I woke up from surgery, had no pain. None. Absolutely none! I think the man walks on water!

— J.W.

Being pain free is the most wonderful thing in the world... I would recommend Dr. Parker to anyone experiencing back pain.

— S.P.

Ten years in the military and no doctor could help my back pain. Dr. Parker did my surgery and I feel like wow... A whole lot better.

— R.G.

You'd never know other than my scar that I'd had back surgery.

— C.C.

I could not even roll over in bed. I couldn't get dressed. If I sneezed it would bring tears to my eyes.

— D.G.

I wouldn't tell the doctor this but I was out mowing my grass with a push mower four days after surgery.

— D.B.
Accolades for Dr. Larry M Parker, MD
Professional Affiliations
American Academy of Orthopaedic Surgeons
American Medical Association
North American Spine Society
Southern Medical Association
Board Certifications
American Board of Orthopaedic Surgeons
Alabama State Medical License
Office Information for Dr. Larry M Parker, MD
Primary Location: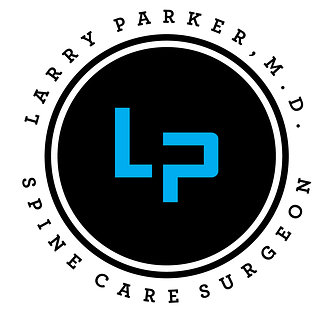 927 Franklin Street
Huntsville, AL 35801

Hours
Monday 8:00 - 5:00
Tuesday 8:00 - 5:00
Wednesday 8:00 - 5:00
Thursday 8:00 - 5:00
Friday 8:00 - 5:00
Visit The Orthopaedic Center Website
Visit Dr. Larry Parker's Website
Insurance Accepted
Aetna
Blue Cross and Blue Shield Association
Cigna
HealthSpring
Humana
Medicaid
Medicare
UnitedHealth Group
Most Major Plans
Profile last updated: November 10, 2016. This information was supplied by or on behalf of the provider.