Learn About Midwest Pain Clinics
The pain management physicians of Midwest Pain Clinics apply over 50 years of combined experience in successfully treating acute and chronic pain. Specialists take a team approach to complex problems, collaborating as they personalize treatment plans in order to deliver effective results.
If your neck or back condition limits your enjoyment of everyday life, Midwest Pain Clinics will work with you in medication management, physical therapy, injections, and more.
Midwest Pain Clinics at a Glance
Patients visit Midwest Pain Clinics for several reasons:
The team features 2 pain management physicians, 4 nurse practitioners, and 2 physician assistants, providing services at 3 locations (Omaha, NE; Columbus, NE; and Dakota Dunes, SD).
The physicians are experienced in treating a wide range of conditions, such as back pain, neck pain, joint pain, headaches, fibromyalgia, sciatica, and injuries from exercise, work, or failed surgeries.
Midwest Pain Clinics earned recognition for excellence in Omaha Magazine's "Best of Omaha" (2017).
If you experience back and neck pain, visit the professionals at Midwest Pain Clinics.
Directions to our primary location in
Omaha, NE
Meet the Physicians of Midwest Pain Clinics
How Midwest Pain Clinics Can Help You
Type of Practice
Accreditations
Conditions
Acute Pain
Arthritis
Cancer
Chronic Pain
Fibromyalgia
Foot Pain
Headache/Migraine
Herniated Disc/Bulging Disc
Hip Pain
Knee Pain
Lower Back Pain
Muscle Pain
Muscle Strain
Neck Pain
Post-Surgical Pain
Sciatica/Radiculopathy/Leg Pain
Upper Back Pain
Treatment
Accident and Injury Care
Diagnostic Testing
Discography
Epidural Steroid Injections
Facet Joint Injections/Blocks
Injections/Blocks
Kyphoplasty/Vertebroplasty
Minimally Invasive Procedures
Nerve Blocks
Pain Management
Pain Pumps
Spinal Cord Stimulation
Office Information for Midwest Pain Clinics
Primary Location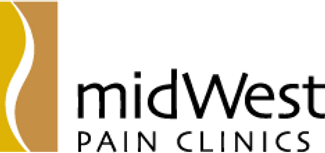 Midwest Pain Clinics
825 N. 90th Street
Omaha, NE 68114
Profile last updated . This information was supplied by or on behalf of the provider.