Learn About Virginia Spine Institute
Virginia Spine Institute has been providing elite spinal healthcare for over 25 years, improving the lives of over 85,000 patients suffering from back or neck conditions. This spinal healthcare destination provides a unique concierge approach to medicine, demonstrating the latest advances in non-operative procedures, operative care, regenerative medicine, and physical therapy.
Virginia Spine Institute is solely dedicated to the treatment of spinal conditions ranging from herniated discs and pinched nerves to the most complex spinal deformity. Additionally, this comprehensive team is committed to patient success supported by technology. Most notably, they were the first in the mid-Atlantic region to perform robot-guided surgery, as well as the first in the Metro D.C. area to perform cervical and lumbar disc replacements.
Virginia Spine Institute at a Glance
People travel all over the world to visit Virginia Spine Institute. Here's why:
The institute is comprised of double-board certified spinal surgeons, pain management and regenerative medicine specialists, physician assistants, and a dedicated team of physical therapists.
All specialists are housed in one location to encourage elevated communication, teamwork, and effectiveness to quickly get patients back to their lives.
Since 2002, Virginia Spine Institute has been recognized by the Spinal Research Foundation as a Center of Excellence.
Virginia Spine Institute is ready to help bring you relief.
Watch Video: Overcoming Back Pain: New Patient Process
Meet the Physicians of Virginia Spine Institute
How Virginia Spine Institute Can Help You
Type of Practice
Awards
Recipient of U.S. News & World Report Top Doctors
Recipient of Washingtonian Top Doctors
Conditions
Facet Syndrome
Muscle Pain
Muscle Strain
Osteoporosis
Poor Posture
Sleep Disorders
Sports Injuries
Treatment
Acupuncture
Annulus Repair
Body Restoration Techniques
Bracing
Coccygectomy
Corpectomy
Decompression
Diet and Nutrition Counseling
Disc Surgery/Replacement
Discography
Dynamic Lumbar Stabilization
Electrotherapy
Endoscopic Microdiscectomy
Exercise
Foraminotomy
Injections/Blocks
Kyphoplasty/Vertebroplasty
Laminectomy
Laminoplasty
Laser Therapy
Microdiscectomy/Microdecompression
Minimally Invasive Surgery
Neck/Cervical Spine Surgery
Nerve Testing
Neuromuscular therapy
Pain Management
Pain Medications
Pain Pumps
Pediatric Treatment
Posture Correction
Prolotherapy
Radiofrequency Procedures
Reconstructive/Revision Spine Surgery
Rehabilitation
Scoliosis Surgery
Spinal Cord Stimulation
Spinal Cord Surgery
Spinal Fusion
Spine Surgery
Ultrasound
Highlights from Virginia Spine Institute
Of Note
Virginia Spine Institute's Most Recent Accolades:
100 Best Spine Surgeons and Specialists in America
U.S. News & World Report Top Doctors (top 1% nationwide)
Washingtonian Top Doctors
70 Best Pain Management Physicians in America
Nationally Recognized: 12 Spine Surgeons for Professional Athletes & 10 Spine Surgeons for NFL Teams
Spine Consultants to the Washington Redskins Since 1993
Office Information for Virginia Spine Institute
The Virginia Spine Institute
11800 Sunrise Valley Drive
Reston, VA 20191
Driving Directions
Primary Location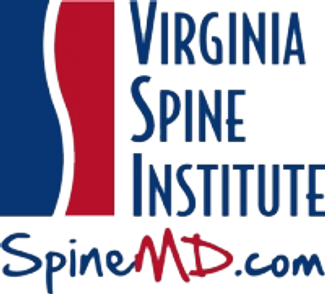 The Virginia Spine Institute
11800 Sunrise Valley Drive
Reston, VA 20191
Hours
Monday: 8:00 - 5:00
Tuesday: 8:00 - 5:00
Wednesday: 8:00 - 5:00
Thursday: 8:00 - 5:00
Friday: 8:00 - 5:00
Visit the Virginia Spine Institute's Website
Like Virginia Spine Institute on Facebook
Insurance Accepted
Most Insurance Plans Accepted
Profile last updated . This information was supplied by or on behalf of the provider.