Featured Member: Dr. Eben C. Davis, Chiropractor, Executive Express Chiropractic – San Francisco, California
Interviewer: What is the patient experience like in your practice?
Dr. Eben Davis: At Executive Express Chiropractic, it's all about the "patient experience". The first part of the experience starts with the design of the office. We wanted to create a floor plan that would allow us to make the most efficient use of the space, which in return facilitates efficient patient turnaround. To achieve this, we hired one of the best architects in San Francisco to build us a masterpiece that would deliver a triple Wow Factor experience the second you walk through the door. Here is a link to our design statement and eco-friendly palate. Secondly, we also have walk-in, no wait service. So appointments are not necessary. We are open daily 9-6, and Saturday 9-1. Our patients know they can come over any time and be seen right away vs. having to make an appointment, then wait for 30 minutes to see the doctor. We also have quite a few highly trained, customer service oriented, healthy looking staff members to support our doctors.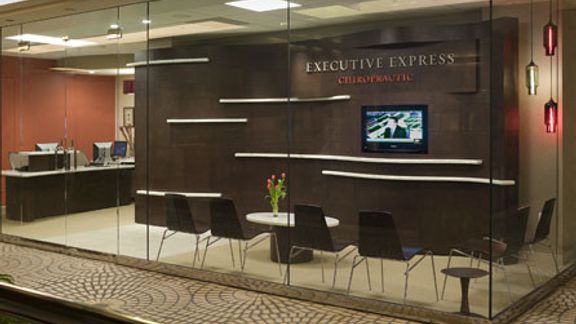 Save
Interviewer: How does this differ from the competition?
Dr. Eben Davis: There are many clinics that try to do various versions of our no wait service but none can pull it off like we can. We have been doing it for over 17 years and refined it to an art form.
Interviewer: How does this benefit your patients?
Dr. Eben Davis: From a patient's point of view, this offers a whole new layer of convenience. We treat primarily busy office workers in downtown San Francisco and their schedules are changing moment to moment. By making it easy and convenient, patients can fit us into their day versus having to fit into our schedule.
Dr. Eben C. Davis, Chiropractor, Executive Express Chiropractic – San Francisco, California
Additional Links: