Living with chronic pain can be emotionally and physically exhausting, as your symptoms never seem to take time off.
By now, you've likely tried all sorts of treatments—but you may not have considered these four little-known natural pain relievers:
See Modern Theories of Chronic Pain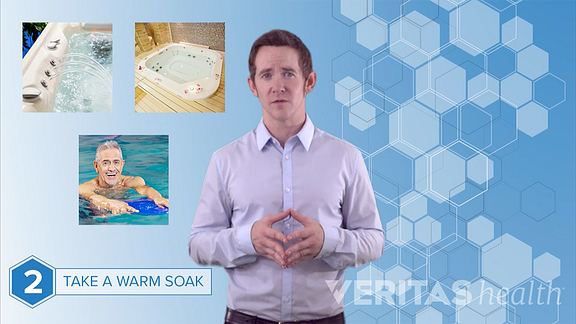 The term "chronic pain" is generally used to describe pain that lasts more than three to six months, or beyond the point of tissue healing. Watch:
Video: 4 Little-Known Natural Pain Relievers
1. Spur the release of your endorphins
Endorphins are pain-inhibiting hormones that are naturally produced by your body. Endorphins inhibit pain by binding to the opioid receptors in your brain, and they work similar to opioid pain medications like oxycodone or morphine.
Any activity that raises your heart rate for an extended period will spur the release of pain-relieving endorphins into your system. But this raises an obvious problem: how do you exercise if you're in so much pain? The solution may be to pick a water-based exercise, or to get help from the right type of health professional—such as a physiatrist, chiropractor, or physical therapist.
See Specialists Who Treat Back Pain
2. Take a warm soak
Soaking your body in warm water can help relieve muscle discomfort and many types of arthritis pain. There are numerous options for a warm soak, including a bathtub, whirlpool tub, or a warm pool. Some people find that essential oils or Epsom salts improve the muscle-relaxation benefits associated with a warm soak.
See Getting Started with Pool Therapy
The temperature of your water should be warm and pleasant—especially before bed. Hot water can make it hard to fall asleep by raising the temperature of your body.
See Practicing Good Sleep Hygiene
If a soak isn't for you, there are plenty of other heat therapy options for your pain. Try applying an electric blanket or using an adhesive back wrap that provides low-level heat over several hours.
See Benefits of Heat Therapy for Lower Back Pain
3. Keep hydrated
Most people know that drinking plenty of water throughout the day is good for your overall health. But did you know that it may also help with your chronic pain? Drinking enough water can alleviate stiffness, and it also supports your blood flow—which enables healing nutrients and oxygen to reach the various structures of your body. In addition, water helps to flush toxins out of your muscles and other soft tissues, and as a bonus it can prevent constipation (a side effect of many pain medications).
See 11 Chronic Pain Control Techniques
As a general rule, women need roughly 2 liters of water per day, while men need 3 liters.
4. Ease your chronic pain with ice
Ice and/or a cold gel pack can alleviate your pain by reducing inflammation and slowing down your nerve impulses. A great option for cold therapy is an ice massage, which may provide additional relief through the manipulation of your soft tissue.
See Ice Packs for Back Pain Relief
Here's how to do it:
Begin by freezing water in a paper cup overnight. Once the ice has hardened, you can peel away the top inch of the cup to expose the ice.
Lie on your side, and apply the ice in a 6-inch radius around the location of your pain. You can also lie on your stomach and have a partner apply the ice for you.
Make sure to limit your ice massage to 5 minutes to avoid possible ice burns.
Watch Video: How to Make a Gel Ice Pack
All of the above natural pain-relief options are not prescriptive. Instead, they are intended as options for you to consider as you work in tandem with your doctor to manage your chronic pain.
See Chronic Pain Coping Techniques - Pain Management
No single treatment option works for everyone, but try one of the above options today and you might find significant relief from your chronic pain.
Learn more:
When Acute Pain Becomes Chronic Pain