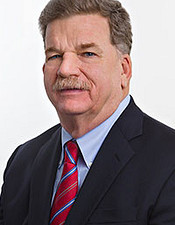 Paul McAfee, MD
Orthopedic Surgeon
Dr. Paul McAfee is an orthopedic surgeon and Chief of Spine Surgery at the University of Maryland St. Joseph Medical Center and at Towson Orthopaedic Associates in Baltimore, MD. He specializes in cervical spine conditions and has been a practicing spine surgeon for more than 30 years.
Dr. McAfee has edited several books on spine arthroplasty and artificial disc replacement. His research has been published in Clinical Orthopaedics and Related Research, Spine, and the Journal of Bone and Joint Surgery.
He has served as Associate Professor in the Department of Orthopaedic Surgery at Johns Hopkins University School of Medicine and on the editorial boards of such medical journals as Spine, the Journal of Spine Disorders and Techniques, and The Spine Journal. Dr. McAfee is a member of the Medical Advisory Board for Veritas Health.
Select Professional Memberships and Achievements
Member, North American Spine Society
Member, American Academy of Orthopaedic Surgeons
Member, Orthopaedic Research Society
Member, International Cervical Spine Research Society
Member, Scoliosis Research Society
Member, Spine Arthroplasty Society
Board Certification
American Board of Orthopaedic Surgery
Education
BA – University of Rochester
MD – State University of New York Upstate Medical University
Internship – General Surgery, University of Virginia School of Medicine
Residency – Orthopaedic Surgery, State University of New York Upstate Medical University
Fellowship – Spinal Reconstructive Surgery, Case Western Reserve University
Clinic Information
Towson Orthopaedic Associates
7505 Osler Drive
Suite 104
Towson, MD 21204
Author profile last updated