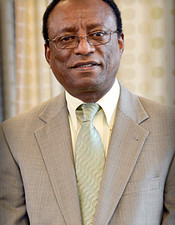 Said Osman, MD
Orthopedic Surgeon
Dr. Said Osman is an orthopedic surgeon with more than 20 years of experience specializing in spine surgery.
He is the Founder of Sky Spine Endoscopy Institute, where he provides complex and minimally invasive spine surgery. In addition, Dr. Osman trains surgeons across the world in endoscopic and endoscopically-assisted spine surgery.
Dr. Osman has been published in numerous peer-reviewed journals and holds eight patents for various medical devices.
Select Professional Memberships and Achievements
Member, North American Spine Society
Member, International Society for the Advancement of Spine Surgery
Fellow, American Academy of Orthopaedic Surgeons
Fellow, Royal College of Surgeons of Edinburgh
Board Certification
American Board of Orthopaedic Surgery
Education
Undergraduate – Kangaru School, Embu, Kenya
MD – University of Nairobi, Kenya
Residency – General Surgery, Kenyatta National Hospital, Nairobi, Kenya
Residency – Orthopedics, Norfolk and Norwich Hospital, Norwich, England
Fellowship – Princess Margaret Rose Orthopedic Hospital, Fairmile Head, Edinburgh, UK
Residency – Orthopedics, Case Western Reserve University
Fellowship – Spine Surgery, Case Western Reserve University
Author profile last updated