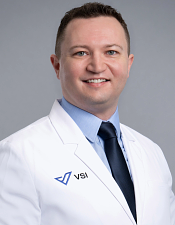 William Kemp, MD
Neurosurgeon
Dr. William Kemp is a board-eligible, fellowship-trained neurosurgeon at Virginia Spine Institute, VA.
Dr. Kemp specializes in the surgical management of musculoskeletal and nerve pain. With extensive education and training at world-class medical institutions, Dr. Kemp is skilled in performing complex and minimally invasive spinal surgical procedures.
He is passionate about creating individualized, comprehensive treatment plans to help his patients have a better quality of life and live as pain-free as possible.
Board Certification
Board Eligible, American Board of Neurological Surgery
Education
BS – Biology/Biological Sciences, General, University of Notre Dame, IN
MD – Indiana University School of Medicine, IN
Residency – Department of Neurosurgery, Cleveland Clinic Foundation
Fellowship – University of Wisconsin Hospitals and Clinics