Spine-health.com is proud to announce that it was recently ranked one of the top 50 most visited health websites, according to ComScore, a global leader in measuring the digital world.
Spine-health.com joins the large general health websites that make up the bulk of the top 50, and was one of the few "vertical" websites – sites that focus in on a particular aspect of health. Spine-health.com focuses exclusively on the spine, and covers conditions that cause back and neck pain.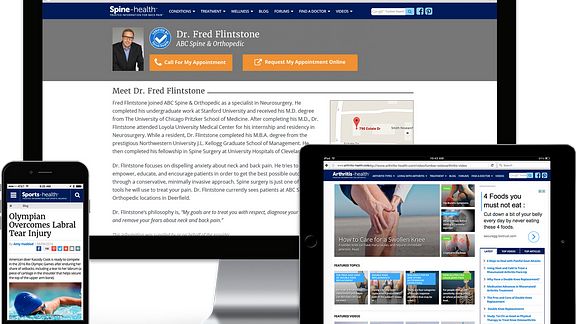 Save
Sylvia Marten, President of Veritas Health (parent company of Spine-health.com and Arthritis-health.com), attributes Spine-health's rise to the top 50 to a number of key factors:
The large and rapidly growing ranks of back and neck pain sufferers, due to the increasingly aging population and lifestyle choices that can cause spine issues
The rise of the empowered patient, as more and more patients and caregivers seek to better understand their spine symptoms and treatment options
The quality of the content and helpful patient community at Spine-health.com
"We have worked hard to build a strong reputation as a respected source for back and neck pain information since 1999. Using a unique approach to patient education, Spine-health has set itself apart by developing content that is original, written and peer-reviewed by medical professionals, and has garnered numerous awards for health content excellence. The website's articles, videos, and other resources offer high quality, in-depth, and unbiased coverage of the gamut of spine patient concerns - trusted by more patients and physicians than any other website for spine content."
According to Marten, "In addition to our peer-reviewed content, we have a very active and supportive patient community. Tens of thousands of registered members and thousands more guest users visit and participate in our patient forums, asking questions about their spine issues and sharing insights that might help others. The issues they raise help us understand what's important to spine patients, where we can help navigate them to appropriate content and even where we may have content gaps that need to be filled. The passion in our forums to understand, to make good decisions about spine care, and to help others is truly incredible."
The ComScore data was for July to September 2012 and measures the number of unique visitors to a website each month. According to Google Analytics, Spine-health.com had 1,800,000 unique visitors monthly during this timeframe.