Surgical treatment is an option in cases of severe, debilitating lumbar degenerative disc disease, and is usually only recommended after at least 6 months of nonsurgical treatment. Most cases of degenerative disc disease can be managed using nonsurgical methods, and do not require surgery for effective pain relief.
Watch: Treatment for Degenerative Disc Disease Video
Spinal surgery is always elective, meaning that it is the patient's decision whether or not to undergo surgery.
It is recommended to take all factors into consideration before proceeding with a decision to have surgery for degenerative disc disease, including the length of the recovery period, pain management during recovery, rehabilitating the spine as it heals, and how recovery will affect daily life.
In This Article:
Lumbar Spinal Fusion Surgery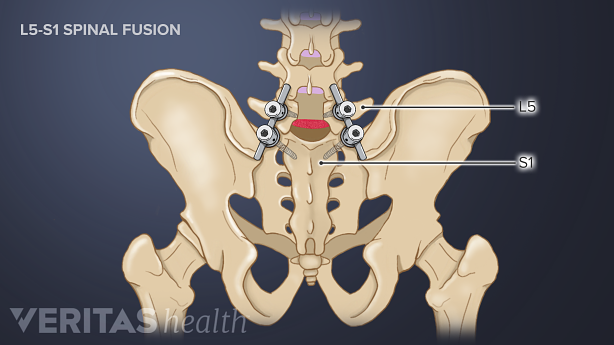 The standard surgical treatment for lumbar degenerative disc disease is a fusion surgery, in which two vertebrae are grafted together. The goal of fusion surgery is to reduce pain by eliminating motion at the spinal segment.
Fusion procedures can differ in how the spine is approached and the methods or tools used to fuse the joint. All spinal fusion surgeries consist of the following:
The affected spinal disc is entirely removed from the disc space (a discectomy).
The set-up for fusion is put in place, which may consist of a bone graft and/or instruments that further stabilize the spine, such as implants, plates, rods, and/or screws attached to the two vertebrae being fused.
The vertebrae then grow together, changing the joints to a solid, immobile structure. Fusion happens in the months following the procedure, not during the surgery itself.
See Lumbar Spinal Fusion Surgery
Physical therapy, pain medication, and/or a back brace may be prescribed following surgery to manage pain and help strengthen the low back as the spine heals. Recovery from spinal fusion can take up to a year as the vertebrae grow together and the spine heals.
Artificial Disc Replacement Surgery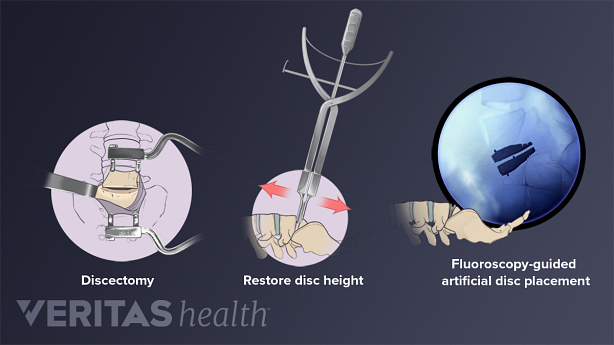 Artificial disc replacement has been developed in recent years as an alternative to spinal fusion. An artificial disc replacement surgery consists of removing the full spinal disc (a discectomy), returning the disc space to a natural height, and implanting an artificial disc device.
See Lumbar Artificial Disc Replacement for Chronic Back Pain
These devices are typically made of:
Two metal endplates that attach to the vertebral bodies and typically include a porous coating that encourages the bone to graft to the device.
A central core made of surgical-grade plastic (polyethylene) or metal alloy that bends or turns to allow for movement at the spinal segment.
This procedure is intended to maintain movement in the spine similar to natural movements, reducing the chance of increased pressured placed on adjacent spinal segments (a somewhat common complication of spinal fusion).
See Total Disc Replacement – Lumbar Artificial Disc Replacement
Recovery from artificial disc replacement surgery typically lasts up to 6 months as the body heals from surgery and the spine adjusts to the device.