Thoracic herniated disc surgery is indicated in only rare instances when a herniated disc leads to myelopathy (spinal cord dysfunction), progressive neurologic deficits, or intolerable pain.
Typically, these symptoms occur following an acute traumatic herniated disc with myelopathy. The thoracic surgery to address these symptoms, called a decompression, is designed to take the pressure off the spinal cord or nerve root.
In This Article:
Different Approaches to Thoracic Surgery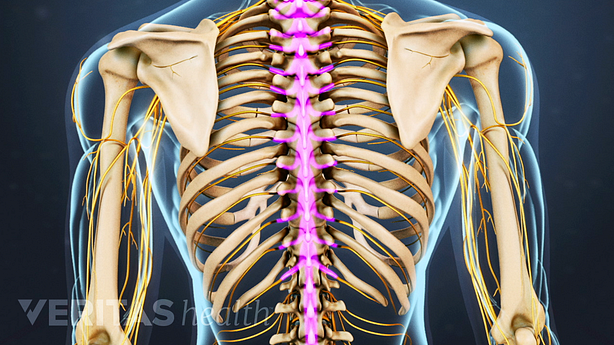 Historically, the surgical approach for a decompression was performed in a laminectomy approached from the posterior (behind). Outcomes were poor in large part because retraction on the spinal cord is not well tolerated and most thoracic herniated discs have a central component that cannot be reached without spinal cord retraction.
More recently, one of the following surgical approaches will be used:
For central and centro-lateral herniations, an open thoracotomy may be performed from an anterior trans-thoracic approach (a front approach that crosses the thoracic spine). This involves approaching the spine through the chest cavity (instead of through the back). In some centers, the procedure may be done as a minimally invasive VATS (Video Assisted Thoracic Surgery) procedure, which involves the use of several small incisions, small scopes and a video screen.
Lateral herniated discs can be reached through a posterolateral approach (from behind and the side) known as a costotransversectomy, which involves removal of rib and transverse process (a small bone attached to the spine) to allow access to the disc space.

Thoracic herniated disc surgery is reserved for cases of myelopathy, progressive lower extremity weakness, and intolerable radicular pain that does not get better with non-surgical treatments.
Thoracic Herniated Disc Surgery Outcomes
In cases where thoracic surgery was indicated, two researchers evaluated 19 patients treated with either costotransversectomy or trans-thoracic decompression of a thoracic disc herniation.
The following was reported:
16 patients with good or excellent outcomes
3 patients with fair or poor results
2 of the poor outcomes were in the costotransversectomy group.
With these results in mind, the researchers opined that the trans-thoracic approach should be the preferred approach. 1 Bohlman HH, Zdeblick TA: Anterior excision of herniated thoracic discs. J Bone Joint Surg Am. 70:1038-1047, 1988.
In a separate study, other researchers reported 76% satisfactory results in 29 patients who underwent a Video Assisted Thoracic Surgery procedure, 2 Regan JJ, Mack MJ, Picetti GD: A technical report on video-assisted thoracoscopy in thoracic spinal surgery. Spine. 20:831-837,1995. the minimally invasive trans-thoracic approach to the thoracic disc space.