The treatment of sacroiliitis depends on the underlying cause and duration of the condition. Initial treatments involve a combination of oral medications, physical therapy, and lifestyle changes. More invasive treatments, such as injections, may be considered if the symptoms don't subside with first-line treatments.
In This Article:
Surgical treatment of sacroiliitis is rare and only indicated when non-surgical treatments have failed to provide symptom relief for several months and the patient's pain has worsened.
Medications for Sacroiliitis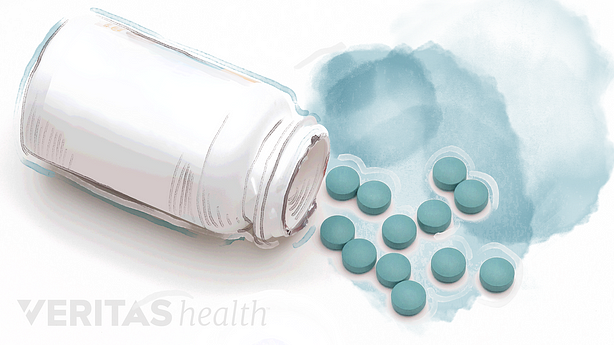 Both prescription and over-the-counter (OTC) medications may help relieve sacroiliac (SI) joint pain and inflammation. A few examples of medications used to treat SI joint pain are discussed below.
The goal of taking pain-relieving medication is to help the patient obtain immediate symptom relief and allow them to participate in more active treatment plans like stretching and physical therapy.
Pain-relieving medications must be discussed with a physician to avoid interactions with other current medications or potential side effects that patients may not be aware of.
Physical Therapy for Sacroiliitis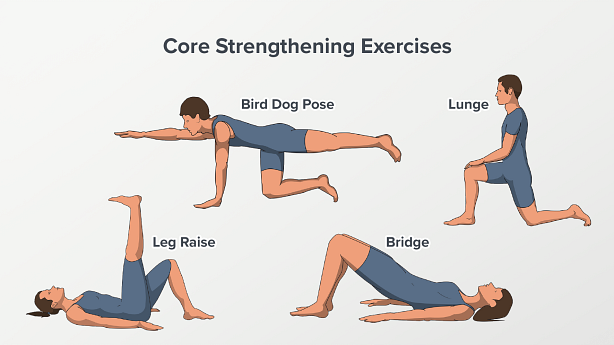 As one of the first-line treatments, physical therapy aims to provide long-term improvement and symptom control through a set of 5 treatment aspects described below:
Educating the patient. Education can guide patients on proper posture and lifestyle modifications that may help reduce or prevent the recurrence of sacroiliitis symptoms.
Controlling pain and inflammation. Physical therapists use techniques such as massage, ultrasound, and heat or ice therapy to help reduce inflammation, pain, and discomfort.
Improving flexibility. Stretching can help improve flexibility in muscles and ligaments surrounding the SI joint. Watch 4 Easy Stretches for SI Joint Pain Relief Video
Increasing strength. Strengthening exercises targeting the hip and lower back can help improve the stability of the sacroiliac joint and reduce pain. Watch Top 5 Exercises for SI Joint Pain Relief Video
Developing endurance. Low-impact exercises such as swimming and cycling can help improve muscle endurance and increase stamina to reduce joint pain and improve function in the hip and lower back.
The total length of an exercise program depends on the severity and duration of the symptoms and signs.
Activity Modification for Sacroiliitis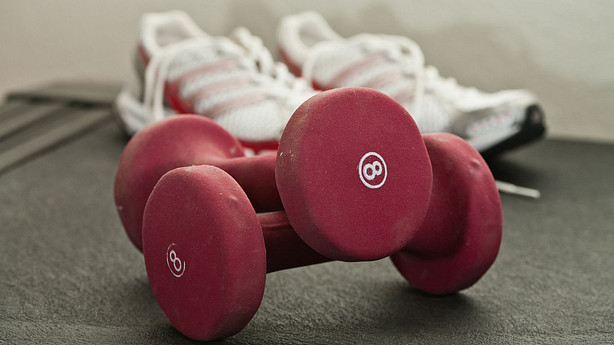 Alterations to everyday activities can help reduce stress on the SI joints. Useful lifestyle changes that can help manage sacroiliitis symptoms include:
Working on weight management. Maintaining a healthy weight can help reduce the strain on the sacroiliac joint and manage the symptoms over time.
Making ergonomic changes. Making ergonomic changes, such as using a standing desk or adjusting the height of the chair, can help improve posture and decrease painful symptoms.
Staying active. Taking regular walking breaks between work and avoiding sitting or standing for too long.
Using orthotics and supportive shoes. Orthotics can help improve the alignment of the foot, reduce the strain on the SI joint, and benefit patients with leg length discrepancies. 1

Lee A, Gupta M, Boyinepally K, Stokey PJ, Ebraheim NA. Sacroiliitis: A Review on Anatomy, Diagnosis and Treatment. Advances in Orthopedics. 2022. http://doi.org/10.1155/2022/3283296

Trying a pelvic belt. Pelvic belts can stabilize the SI joints and reduce rotation or excess ligament strain. 3

Raj MA, Ampat G, Varacallo M. Sacroiliac Joint Pain. In: StatPearls. Treasure Island (FL): StatPearls Publishing; September 4, 2022.

Using mobility aids. When the pain is acute, using mobility aids, such as canes or crutches, can help reduce the weight-bearing load on the SI joint.
Eat a healthy, anti-inflammatory diet. To prevent SI joint pain caused by dietary inflammation, avoiding inflammatory foods, such as saturated fats, trans-fats, and refined sugar, is beneficial. 4

Pahwa R, Goyal A, Jialal I. Chronic Inflammation. [Updated 2022 Aug 8]. In: StatPearls [Internet]. Treasure Island (FL): StatPearls Publishing; 2022 Jan-. Available from: https://www.ncbi.nlm.nih.gov/books/NBK493173/
By implementing these strategies, individuals can reduce the strain on the SI joint and prevent or manage ongoing SI joint pain.
Injection Treatments for Sacroiliitis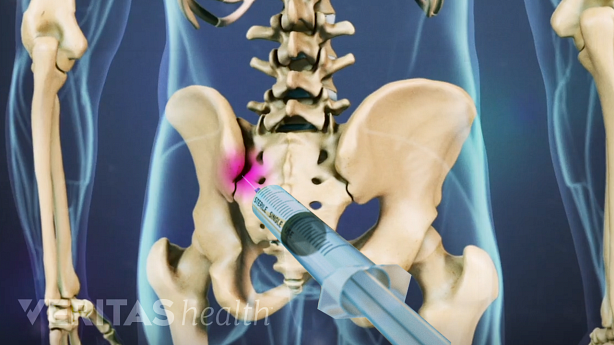 Injection treatments may be recommended for severe SI joint pain caused by sacroiliitis that does not respond to the treatments listed above. Common SI joint injection treatments are described below.
Steroid injections for sacroiliitis
A local anesthetic and corticosteroid may be injected directly into the SI joint to reduce inflammation and help provide symptom relief to patients with arthritis, inflammatory conditions, and/or acute injuries. The injection may be administered at a doctor's office or an outpatient surgery center. 5 Kao MC, Chuang CW, Hung SK, Pan PT. Diagnosis and interventional pain management options for sacroiliac joint pain. Tzu Chi Medical Journal. 2019;31(4):207-210. http://doi.org/10.4103/tcmj_54_19
Injection treatments are primarily performed under fluoroscopic contrast-enhanced guidance or with ultrasound guidance.
Watch Sacroiliac Joint Steroid Injection Video
Prolotherapy for sacroiliitis
Prolotherapy is a type of regenerative therapy that involves injecting a medicated solution into an affected area with the goal of inducing tissue regeneration, promoting healing, and reducing pain. 6 Yelland MJ, Mar C, Pirozzo S, Schoene ML, Vercoe P. Prolotherapy injections for chronic low-back pain [review]. Cochrane Database Syst Rev. 2004.29(19):2126-33. http://doi.org/10.1097/01.brs.0000141188.83178.b3 , 7 Bae G, Kim S, Lee S, Lee WY, Lim Y. Prolotherapy for the patients with chronic musculoskeletal pain: systematic review and meta-analysis. Anesth Pain Med. 2021.16(1):81-95. https://pubmed.ncbi.nlm.nih.gov/33348947/
There is limited research on the effectiveness of prolotherapy for sacroiliitis, but some clinical trials have shown better outcomes of prolotherapy treatment over steroid injections for treating SI joint pain. 3 Raj MA, Ampat G, Varacallo M. Sacroiliac Joint Pain. In: StatPearls. Treasure Island (FL): StatPearls Publishing; September 4, 2022. , 4 Pahwa R, Goyal A, Jialal I. Chronic Inflammation. [Updated 2022 Aug 8]. In: StatPearls [Internet]. Treasure Island (FL): StatPearls Publishing; 2022 Jan-. Available from: https://www.ncbi.nlm.nih.gov/books/NBK493173/
Platelet-rich plasma therapy
Platelet-rich plasma therapy, also called PRP therapy, helps repair damaged cartilage, tendons, ligaments, muscles, or even bone using the blood's natural healing properties.
In treating sacroiliitis joint pain, PRP injections may be administered around the SI joint or inside the SI joint space. 8 Singla V, Batra YK, Bharti N, Goni VG, Marwaha N. Steroid vs. Platelet-Rich Plasma in Ultrasound-Guided Sacroiliac Joint Injection for Chronic Low Back Pain. Pain Pract. 2017;17(6):782-791. doi:10.1111/papr.12526
Radiofrequency ablation for sacroiliitis
Radiofrequency ablation (RFA), also called radiofrequency neurotomy, is a procedure that involves heating a part of a pain-transmitting nerve with a radiofrequency needle to create a heat lesion. This resulting lesion prevents the nerve from sending pain signals to the brain. Research on the effectiveness of radiofrequency denervation for SI joint pain is currently limited. 9 Manchikanti L, Abdi S, Atluri S, Benyamin RM, Boswell MV, Buenaventura RM, et al. An update of comprehensive evidence-based guidelines for interventional techniques in chronic spinal pain. Part II: Guidance and recommendations. Pain Physician. 2013;16(2 Suppl):S49-S283. https://pubmed.ncbi.nlm.nih.gov/23615883/
Watch Lumbar Radiofrequency Neurotomy Video
As with all injection treatments, in rare cases, SI joint injections carry a risk of side effects and adverse events, including but not limited to pain at the injection site, infection, bleeding, or bruising at the injection site.
1 Lee A, Gupta M, Boyinepally K, Stokey PJ, Ebraheim NA. Sacroiliitis: A Review on Anatomy, Diagnosis and Treatment. Advances in Orthopedics. 2022. http://doi.org/10.1155/2022/3283296
2 Cui Y, Zheng J, Zhang X, Zeng H, Luo R. Evaluation of treatments for sacroiliitis in spondyloarthropathy using the Spondyloarthritis Research Consortium Canada scoring system. Arthritis Research & Therapy. 2016;18(38). https://doi.org/10.1186/s13075-016-0916-2
3 Raj MA, Ampat G, Varacallo M. Sacroiliac Joint Pain. In: StatPearls. Treasure Island (FL): StatPearls Publishing; September 4, 2022.
4 Pahwa R, Goyal A, Jialal I. Chronic Inflammation. [Updated 2022 Aug 8]. In: StatPearls [Internet]. Treasure Island (FL): StatPearls Publishing; 2022 Jan-. Available from: https://www.ncbi.nlm.nih.gov/books/NBK493173/
5 Kao MC, Chuang CW, Hung SK, Pan PT. Diagnosis and interventional pain management options for sacroiliac joint pain. Tzu Chi Medical Journal. 2019;31(4):207-210. http://doi.org/10.4103/tcmj_54_19
6 Yelland MJ, Mar C, Pirozzo S, Schoene ML, Vercoe P. Prolotherapy injections for chronic low-back pain [review]. Cochrane Database Syst Rev. 2004.29(19):2126-33. http://doi.org/10.1097/01.brs.0000141188.83178.b3
7 Bae G, Kim S, Lee S, Lee WY, Lim Y. Prolotherapy for the patients with chronic musculoskeletal pain: systematic review and meta-analysis. Anesth Pain Med. 2021.16(1):81-95. https://pubmed.ncbi.nlm.nih.gov/33348947/
8 Singla V, Batra YK, Bharti N, Goni VG, Marwaha N. Steroid vs. Platelet-Rich Plasma in Ultrasound-Guided Sacroiliac Joint Injection for Chronic Low Back Pain. Pain Pract. 2017;17(6):782-791. doi:10.1111/papr.12526
9 Manchikanti L, Abdi S, Atluri S, Benyamin RM, Boswell MV, Buenaventura RM, et al. An update of comprehensive evidence-based guidelines for interventional techniques in chronic spinal pain. Part II: Guidance and recommendations. Pain Physician. 2013;16(2 Suppl):S49-S283. https://pubmed.ncbi.nlm.nih.gov/23615883/