The following is a
Sponsored Resource
. The sponsor of this content has sole editorial control.
Less Invasive, Better Results
Modern advancements in spine surgery may offer many patients long-lasting back pain relief in as little as one day. Atlantic Spine Center's innovative RELIEF Surgery℠ is a state-of-the-art robotic-assisted endoscopic procedure that can lead to less pain and quicker recovery.
Is minimally invasive spine surgery right for you?
Get Started with a Free MRI Review
What Is RELIEF SurgerySM?
Robotic and Endoscopic Lumbar Interbody Expanded Fusion (RELIEF) Surgery℠ is a minimally invasive, robotic-assisted spine surgery that may provide long-lasting pain relief for patients who have been diagnosed with low back pain caused by narrowing of the spinal disc space or spinal instability.
Are You A Candidate for RELIEF SurgerySM?
If you have been diagnosed with a spinal condition, such as disc degeneration, bulging discs, herniation, spinal stenosis, or spinal slippage, you may experience narrowing of the spinal disc space and spinal instability. Spinal surgery is often required to restore spinal intervetebral disc space and/or maintain spinal stability..
Conditions Treated with RELIEF SurgerySM include:
Lumbar spondylolisthesis/instability
Lumbar spinal disc space narrowing
Lumbar stenosis conditions
Lumbar disc herniation
Lumbar radiculopathy
Advantages of RELIEF SurgerySM
Compared to traditional spinal procedures, RELIEF Surgery℠ offers a less invasive approach, quicker recovery times and less downtime after the surgery. Potential advantages of RELIEF Surgery℠ include:
Long-lasting pain relief
Minimally invasive and less surgery trauma
Less downtime with same day surgery
Faster recovery and less pain than traditional spine surgery
Increased efficiency and potential reduction in surgical error
Reduced exposure to radiation
Surgery Animation
Looking for RELIEF SurgerySM Experts?
Atlantic Spine Center physicians are trained in today's most advanced minimally invasive treatments and procedures. Atlantic spine center offers patients a better option to traditional spine treatments.
Kaixuan Liu, MD, PhD

Dr. Liu is devoted to high quality clinical research and innovation in endoscopic spine surgery. He has frequently presented his work of endoscopic spine surgery in national and international meetings. Dr. Liu has extensively published his skills and experiences of endoscopic spine surgery in the cervical, thoracic, and lumbar spine in peer reviewed journals.

Praveen Kadimcherla, MD

Dr. Kadimcherla has extensive knowledge of various pathologies involving the degenerative spine. He has become adept in dealing with complex spine issues including deformity, tumors and revision spine surgery. He has published scientific articles and presented at national meetings.

Fabien Bitan, MD

Dr. Bitan is a world renowned spine surgeon and leading expert in spinal instrumentation. He has substantial experience in treating spinal deformities, especially scoliosis and kyphosis, in Europe and the United States. His areas of expertise include treating spinal deformities, performing artificial disc replacement, and operating minimally invasive spinal procedures.
Help us pinpoint
the cause of your pain
When your back hurts, understanding what is causing your pain may lead to faster treatment and pain relief. Atlantic Spine Center physicians use a variety of proven diagnostic tests for back pain that can often pinpoint the trigger, helping smooth the path toward effective back pain treatment.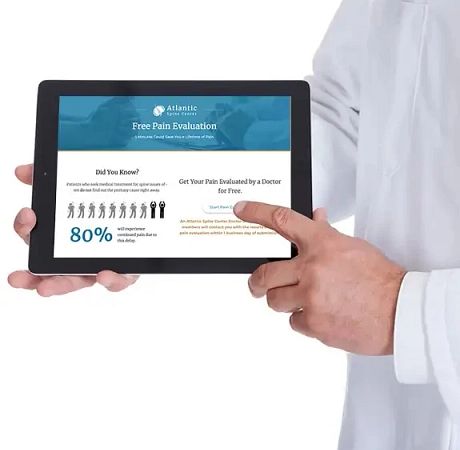 How does a pain evaluation work?
The doctors at Atlantic Spine Center created this tool specifically to address the issue of an early and accurate diagnosis.
Complete the pain evaluation

An Atlantic Spine Center doctor reviews your evaluation

Get your personalized results
Please note Atlantic Spine Center does not accept Medicare or Medicaid.
Locations:
475 Prospect Ave., Ste. 110, West Orange, NJ 07052
1045 Park Ave., New York, NY 10028
2163 Oak Tree Rd, Suite 110, Edison, NJ 08820
347 Mount Pleasant Pleasant Ave, West Orange, NJ 07052