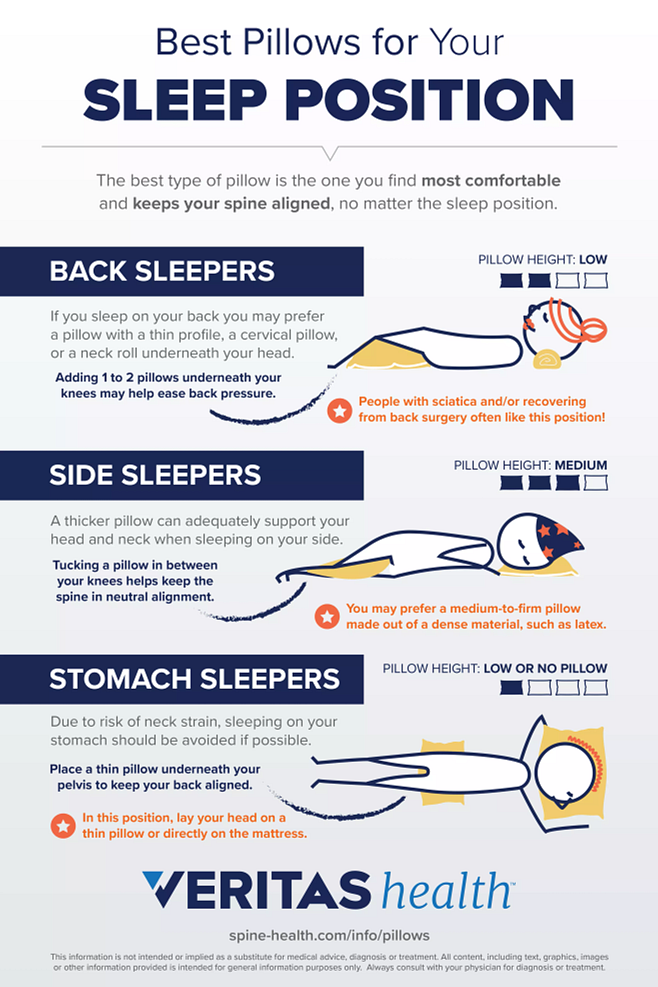 The best type of pillow is the one you find most comfortable and keeps your spine aligned, no matter the sleep position.
BACK SLEEPERS
If you sleep on your back you may prefer a pillow with a thin profile, a cervical pillow, or a neck roll underneath your head.
Adding 1 to 2 pillows underneath your knees may help ease back pressure.
People with sciatica and/or recovering from back surgery often like this position!
PILLOW HEIGHT: LOW
SIDE SLEEPERS
A thicker pillow can adequately support your head and neck when sleeping on your side.
Tucking a pillow in between your knees helps keep the spine in neutral alignment.
You may prefer a medium-to-firm pillow made out of a dense material, such as latex.
PILLOW HEIGHT: MEDIUM
STOMACH SLEEPERS
Due to risk of neck strain, sleeping on your stomach should be avoided if possible.
Place a thin pillow underneath your pelvis to keep your back aligned.
In this position, lay your head on a thin pillow or directly on the mattress.
PILLOW HEIGHT: LOW OR NO PILLOW