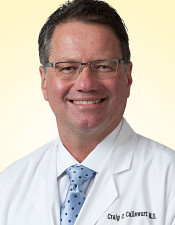 Craig Callewart, MD
Orthopedic Surgeon
Dr. Craig Callewart is an orthopedic surgeon and founder of a private practice in Dallas, TX. He specializes in traumatic spine injuries and chronic pain and has been a practicing spine surgeon for more than 25 years.
Committed to the advancement of orthopedic spine research, Dr. Callewart has contributed chapters to medical textbooks, and his research has been published in Spine and the Journal of Bone and Joint Surgery.
Dr. Callewart has delivered presentations at meetings for the Southern Pain Society and the North American Spine Society, and he has served on committees for the Scoliosis Research Society, Dallas County Medical Society, and the Texas Orthopaedic Association.
Select Professional Memberships and Achievements
Member, North American Spine Society
Member, American Academy of Orthopaedic Surgeons
Member, Scoliosis Research Society
Member, Texas Medical Association
Board Certification
American Board of Orthopaedic Surgery
Education
BS – Texas A&M University
MD – University of Texas Southwestern Medical School
Internship – General Surgery, St. Luke's Hospital, Case Western Reserve University
Residency – Orthopaedic Surgery, St. Luke's Hospital, Case Western Reserve University
Fellowship – Orthopaedic Spine Surgery, UCLA School of Medicine
Clinic Information
Craig C. Callewart, MD, PA
9101 North Central Expressway
Suite 360
Dallas, TX 75246
Author profile last updated