If the pain and other symptoms of a lumbar herniated disc persist after six weeks, surgery is often considered. A lumbar herniated disc is the most common reason for spine surgery in adults during their working years. 1 Schroeder GD, Guyre C, Vaccaro A. The epidemiology and pathophysiology of lumbar disc herniations. Seminars in Spine Surgery. Volume 28, Issue 1, March 2016, Pages 2-7. Lumbar Disc Herniation. doi:10.1053/j.semss.2015.08.003.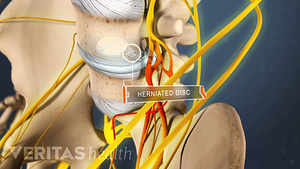 Lumbar microdiscectomy may be considered if lumbar herniated disc symptoms do not resolve after 6 weeks of non-surgical treatment. Watch Now
Surgery may be recommended if:
There is severe pain and the person is having difficulty maintaining a reasonable level of daily functions, such as standing or walking.
The person is experiencing progressive neurological symptoms, such as worsening leg weakness, and/or numbness.
There is a loss of bowel and bladder functions.
Medication, physical therapy, and/or other nonsurgical treatments have not significantly eased symptoms.
In some cases, surgery is needed before the patient has completed six weeks of nonsurgical care.
Microdiscectomy Procedures for a Lumbar Herniated Disc
Two minimally invasive procedures, microdiscectomy and endoscopic microdiscectomy, are most commonly recommended for lumbar herniated discs. These procedures take the pressure off the nerve root and provide a better healing environment for the disc.
See Microdiscectomy (Microdecompression) Spine Surgery
Usually, only the small portion of the disc that is pushing against the nerve root needs to be removed, and the majority of the disc remains intact.
Small incisions are used in a microdiscectomy. For endoscopic microdiscectomy surgery, instruments are inserted through a thin tube or tubes to minimize disruption to the surrounding tissue. A tiny camera can be inserted through a tube to provide visualization for the surgeon.
Both types of surgery are usually performed on an outpatient basis or with one overnight stay in the hospital. Most patients can return to work and their regular routines in one to three weeks.
In This Article:
Success Rates for Lumbar Herniated Disc Surgery
Surgery for a lumbar herniated disc has a high rate of success. One extensive medical study reported good or excellent results for 84% of those having a microdiscectomy and nearly 80% for those having an endoscopic microdiscectomy. 2 Dohrmann GJ, Mansour N. Long-Term Results of Various Operations for Lumbar Disc Herniation: Analysis of over 39,000 Patients. Med Princ Pract 2015;24:285-290. (DOI:10.1159/000375499).
Microdiscectomy and endoscopic microdiscectomy are particularly helpful in relieving leg pain, commonly called sciatica. These procedures have not been as successful in easing back pain, and are typically not performed if back pain is the main issue.
The medical literature has shown some benefits for surgery compared with nonsurgical treatment, though in some cases the difference lessens over time. One large study found that people who had surgery for a lumbar herniated disc experienced more improvement in symptoms for up to two years than those having nonsurgical treatment. 3 Abraham P, Rennert RC, Martin JR, et al. The role of surgery for treatment of low back pain: insights from the randomized controlled Spine Patient Outcomes Research Trials. Surgical Neurology International. 2016;7:38. doi:10.4103/2152-7806.180297.
While microdiscectomy and endoscopic microdiscectomy are considered low-risk procedures, all surgery has risks.
About 10% of patients having a microdiscectomy will experience another disc herniation at the same location. A recurrence is more likely within the first three months, but also can happen years later. Multiple recurrences are typically addressed with lumbar fusion surgery. This removes all the disc material and stops movement of the discs.