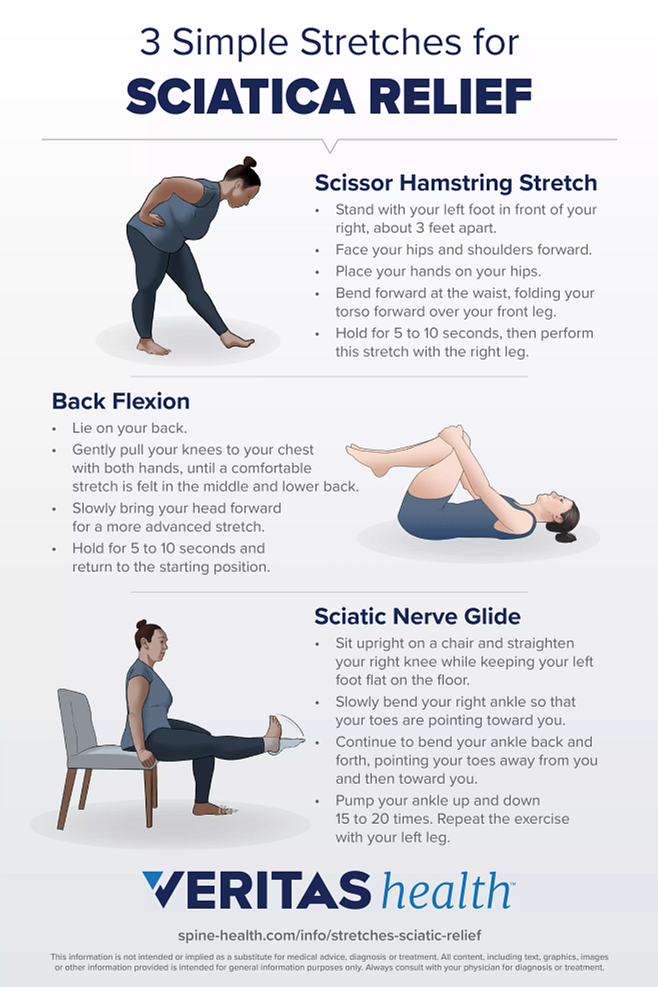 Scissor Hamstring Stretch
Stand with your left foot in front of your right, about 3 feet apart.
Face your hips and shoulders forward.
Place your hands on your hips.
Bend forward at the waist, folding your torso forward over your front leg.
Hold for 5 to 10 seconds, then perform this stretch with the right leg.
Back Flexion
Lie on your back.
Gently pull your knees to your chest with both hands, until a comfortable stretch is felt in the middle and lower back.
Slowly bring your head forward for a more advanced stretch.
Hold for 5 to 10 seconds and return to the starting position.
Sciatic Nerve Glide
Sit upright on a chair and straighten your right knee while keeping your left foot flat on the floor.
Slowly bend your right ankle so that your toes are pointing toward you.
Continue to bend your ankle back and forth, pointing your toes away from you and then toward you.
Pump your ankle up and down 15 to 20 times. Repeat the exercise with your left leg.