By the third week after cervical artificial disc replacement surgery, most patients can return to everyday activities. Some neck or arm pain may linger, and flare-ups may still occur during certain activities or neck movements. Physical therapy may be recommended about 4 weeks after surgery to help the recovery and further pain relief. A return to more vigorous activities can typically be achieved 6 to 12 weeks (3 months) after the surgery.
See Recovery from Cervical Artificial Disc Replacement Surgery
In This Article:
3 Weeks to 3 Months After Cervical Artificial Disc Replacement Surgery
Pain Medications
Many people still need pain medications for at least 3 or 4 weeks following cervical artificial disc replacement surgery. By the third week, typically over-the-counter pain medications, such as acetaminophen (Tylenol) or nonsteroidal anti-inflammatory drugs (NSAIDs), are sufficient to manage postoperative pain.
See Medications for Back Pain and Neck Pain
It is rare for opioids or muscle relaxers to still be needed 3 or 4 weeks after cervical artificial disc replacement surgery. For patients who still need opioids or muscle relaxers, it is especially important to continue following the surgeon's directions for their use. These prescription pain medications have increased risks for serious side effects and are only intended for short-term use.
Returning to Everyday Activities
As more progress is made in recovery, more activities can be resumed.
Driving
A return to driving is typically permitted once pain is well controlled without opioids. Driving is not allowed if the person still has debilitating pain, severely limited neck motion, or is using any medications that cause drowsiness or impaired judgement.
Returning to work
A return to work depends on the person's recovery progress and type of work. If the person can perform the job duties without exacerbating pain, it is OK to work. Some patients may return to light work, such as a desk job or school, about a week after surgery, while others may take longer before feeling up to it. Returning to a more physical job, such as construction, may take 6 weeks or longer.
Resuming sports and other physical activities
The timeline for returning to sports and other recreational activities can vary. The weight permitted for lifting may gradually increase starting at 2 or 4 weeks. Some light sport activities may be permitted at about 4 weeks, such as jogging, biking, or swimming. A return to competitive sports may take 6 weeks or longer, depending on the ability to perform the sport's movements pain-free.
There is currently a lack of data regarding cervical artificial discs and contact sports, such as football and hockey. 1 Molinari RW, Pagarigan K, Dettori JR, Molinari R, Dehaven KE. Return to play in athletes receiving cervical surgery: a systemic review. Global Spine J. 2016; 6(1):89-96. doi: 10.1055/s-0035-1570460 Before returning to a contact sport, ask the surgeon's advice.
Follow-Up Appointments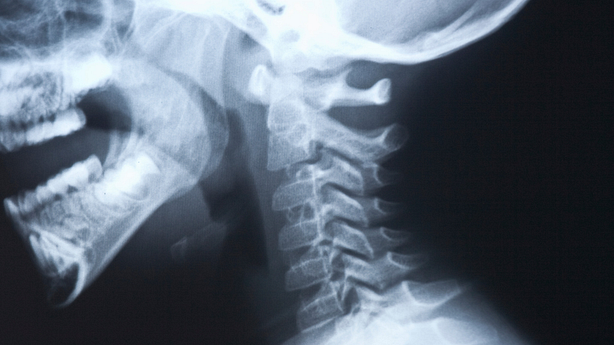 There are usually at least 2 follow-up appointments where x-rays are taken of the cervical spine to see how the healing is progressing. For example, x-rays might be taken within a few days or weeks after surgery, and then again at 3 months. These x-rays help to check that the bones look healthy and the artificial disc has not migrated out of position. Multiple x-rays are taken, including with the cervical spine in flexion and extension to test the artificial disc's full range of motion. Beyond the 3-month point, x-rays are taken either on a yearly basis or if there are new symptoms, such as pain.
If follow-up x-rays do not show any potential for complication, the surgeon is likely to permit a return to most or all activities at the 3-month mark. Some more strenuous activities, such as competitive sports or jobs that require heavy lifting, may require a completed physical therapy program before a return can be approved.
Physical Therapy
A surgeon may recommend starting physical therapy about 4 weeks after surgery if the patient will benefit from increased neck strength and flexibility. A typical physical therapy program may involve working with a physical therapist 2 or 3 times per week for 4 to 6 weeks, depending on the patient's specific needs and goals. For someone returning to a computer job, physical therapy might focus more on improving posture, whereas someone returning to construction work may focus more on lifting technique and upper body strength.
See Physical Therapy for Neck Pain Relief
Long-Term Success
Cervical artificial disc replacement surgery is considered a success if arm pain goes away and overall function improves for daily living. While there is a chance for the surgery to fail and more long-term data is needed, the benefits of a successful disc replacement usually last for many years.
See Potential Complications and Risks of Cervical Disc Replacement Surgery
To increase the chances for a successful cervical artificial disc replacement over the long run, follow the surgeon's directions and try to lead an active lifestyle that keeps the neck strong and flexible.
1 Molinari RW, Pagarigan K, Dettori JR, Molinari R, Dehaven KE. Return to play in athletes receiving cervical surgery: a systemic review. Global Spine J. 2016; 6(1):89-96. doi: 10.1055/s-0035-1570460