Chronic Neck Pain
The Essential Guide to Finding Neck Pain Relief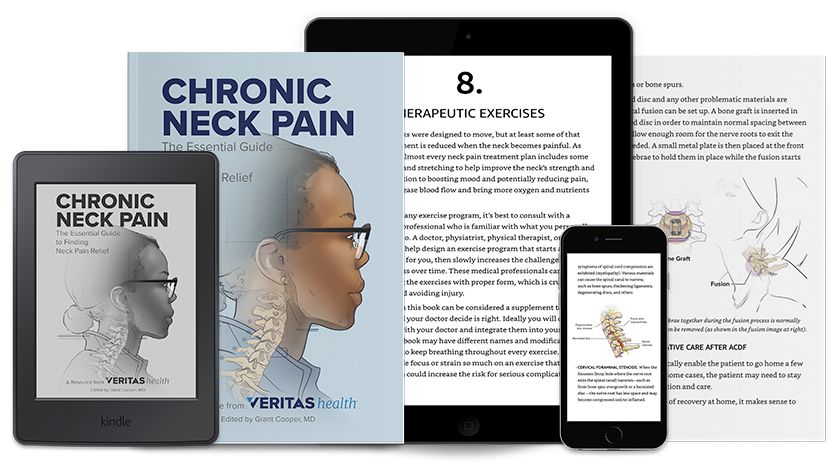 Winner of:
---
About this Book
Chronic neck pain can interfere with your everyday activities, diminishing your quality of life. Chronic Neck Pain: The Essential Guide to Finding Neck Pain Relief helps you better understand the cause of your pain and, most importantly, how it can be treated.
Inside this 60-page book, edited by Grant Cooper, MD, you will find a compilation of the best doctor-authored, peer-reviewed articles of Spine-health.com. This guide provides accurate, trusted information about chronic neck pain, using everyday language and detailed illustrations so you can feel empowered to make informed decisions and find relief.
Contents
Videos
Exercises
Self-care options
Surgery options
When to see a doctor
Purchase this book
---
What People are Saying
This book gets straight to what people with chronic neck pain want to know: why neck pain might develop and how to find pain relief that works.
— Andrew J. Cole, DC
Physiatrist at Swedish Spine, Sports & Musculoskeletal Medicine
The explanations and illustrations in this book provide a powerful starting point for anyone seeking to understand chronic neck pain and its treatment options.
— Steven G. Yeomans, DC
Board Certified Orthopedis
---