Surgery Video Library
If you're about to undergo back or spine surgery, understanding what the process involves is important. Even if you're just looking into your options, keeping informed about the procedures can be vital to health. Our up-to-date surgery video library provides a listing of all of our surgery-related videos. Also see our video section about Spinal Fusion Videos.
Sponsored Video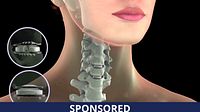 The Mobi-C® Cervical Disc (Mobi-C) has been designed for cervical disc replacement to restore segmental motion and disc height. Talk to your doctor about the risks and benefits of surgery using Mobi-C to treat your condition.