Lumbar spine surgery is an invasive treatment that involves the physical removal, repair, or readjustment of spinal structures to treat injuries, diseases, and/or deformities affecting the spine between one or more of the L1-S1 spinal motion segments.
Around 10% of patients with back pain go on to develop chronic back pain, and a fraction of these patients may need surgery to manage their pain. 1 Baliga S, Treon K, Craig NJ. Low Back Pain: Current Surgical Approaches. Asian Spine J. 2015;9(4):645-657. doi:10.4184/asj.2015.9.4.645
Purpose of lumbar spine surgery: Lumbar surgery aims to relieve pain and symptoms in the lower back and/or leg that cause significant functional limitations and reduce the quality of life.
When lumbar spine surgery is indicated: Unless a medical emergency, surgical treatment is indicated as the last option after a series of aggressive non-surgical treatments have been tried for several months without successful results.
The most common lumbar spine surgeries are lumbar discectomy and posterolateral spinal fusion. 2 Yeung CM, Schoenfeld AJ, Lightsey HM 4th, Kang JD, Makhni MC. Trends in Spinal Surgery Performed by American Board of Orthopaedic Surgery Part II Candidates (2008 to 2017). J Am Acad Orthop Surg. 2021;29(11):e563-e575. doi:10.5435/JAAOS-D-20-00437
When to See a Surgeon for Low Back Pain and Leg Pain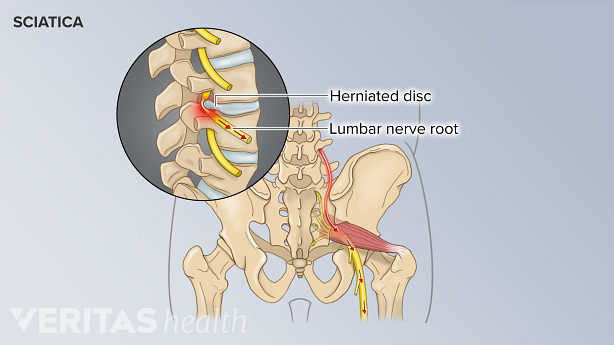 Many patients with low back pain wonder if they will need back surgery and when they should consult a spine surgeon. Important factors to consider prior to seeing a spine surgeon for low back pain and leg pain include:
Red-flag symptoms and signs. Symptoms such as unrelenting back pain, severe pain and numbness in the legs, groin, or buttock area, night-time pain, and/or the inability to control bowel/bladder movements indicate a serious medical condition and warrant immediate medical/surgical treatment.
Severe/progressive symptoms that are unresponsive to non-surgical treatment. If the back pain is not alleviated by non-surgical treatments and has continued for several months, new symptoms such as progressive weakness or abnormal sensations develop in the leg(s), or any other concerning symptoms arise, a spine surgeon may be consulted.
Inability to function due to back pain and/or leg pain. Despite an aggressive course of non-surgical treatments, if one is not able to go to work, drive to the store, and complete other activities of daily living, it may be advisable to consider spine surgery sooner rather than later.
Surgery is possible only when an anatomic lesion that is attributable to the patient's symptoms and amenable to surgical correction is identified.
Types of Back Pain that May Be Treated with Surgery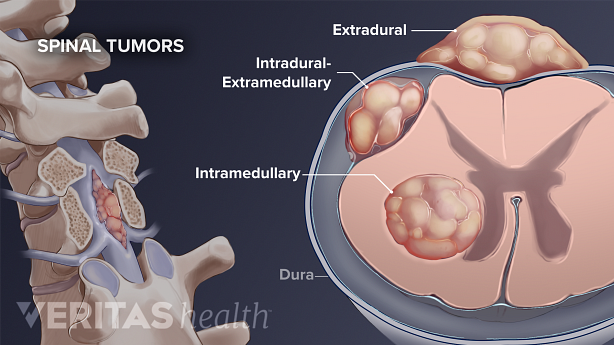 Pain generators in the spine typically consist of discs, bones, muscles, nerves, and ligaments. Back pain that can be attributed to a specific anatomic area, which is confirmed through radiographic and other tests, may be treated with surgery. The following conditions may be indications for one of the many types of lumbar spine surgery 3 Mobbs RJ, Phan K, Malham G, Seex K, Rao PJ. Lumbar interbody fusion: techniques, indications and comparison of interbody fusion options including PLIF, TLIF, MI-TLIF, OLIF/ATP, LLIF and ALIF. J Spine Surg. 2015;1(1):2-18. doi:10.3978/j.issn.2414-469X.2015.10.05 :
Two types of spinal surgeries can be combined. For example, decompression of spinal nerves can be performed on multiple levels, followed by an interbody fusion. 4 Wipplinger C, Melcher C, Hernandez RN, et al. "One and a half" minimally invasive transforaminal lumbar interbody fusion: single level transforaminal lumbar interbody fusion with adjacent segment unilateral laminotomy for bilateral decompression for spondylolisthesis with bisegmental stenosis. J Spine Surg. 2018;4(4):780-786. doi:10.21037/jss.2018.10.01 However, such types of combined surgeries typically have a greater potential for future complications. 5 Chang W, Yuwen P, Zhu Y, et al. Effectiveness of decompression alone versus decompression plus fusion for lumbar spinal stenosis: a systematic review and meta-analysis. Arch Orthop Trauma Surg. 2017;137(5):637-650. doi:10.1007/s00402-017-2685-z
Spine Surgery Is Not Always a Major Surgery
Back surgery is generally recognized as a major surgery a hospital stay and a long recovery period. However, with newer technology and surgical advancements, most spine surgeries can be performed through minimally invasive techniques and lesser time at the hospital. Some surgeries may also be performed on an outpatient basis.
2 Main Surgical Techniques for the Back: Open Surgery and Minimally Invasive Surgery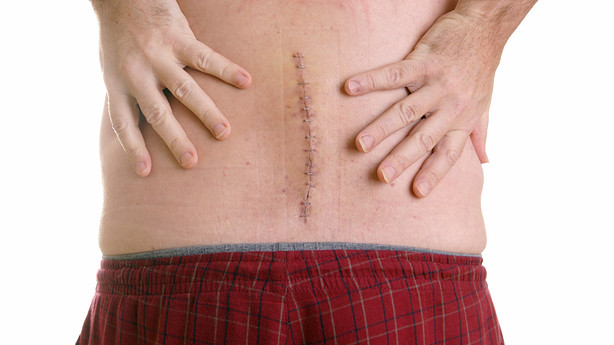 Traditional open surgery on the lumbar spine may be preferred by some surgeons due to the complexity of the condition and the anatomy of the area being treated.
Open surgery provides the surgeon with a larger surgical field and greater visibility of surrounding structures. 6 Sharif S, Afsar A. Learning Curve and Minimally Invasive Spine Surgery. World Neurosurg. 2018;119:472-478. doi:10.1016/j.wneu.2018.06.094
The open surgery method is not always suitable because the risks, such as excessive blood loss and longer recovery time, may outweigh the benefits for certain patients.
Minimally invasive surgery on the lumbar spine typically involves shorter operation times, shorter hospital stays, and less blood loss than open surgery; also, ongoing opioid use after surgery is lower in minimally invasive procedures. 7 Hockley A, Ge D, Vasquez-Montes D, et al. Minimally Invasive Versus Open Transforaminal Lumbar Interbody Fusion Surgery: An Analysis of Opioids, Nonopioid Analgesics, and Perioperative Characteristics. Global Spine J. 2019;9(6):624-629. doi:10.1177/2192568218822320
These options, along with the potential surgical risks, benefits, and alternatives, should be discussed with the spine surgeon prior to agreeing on surgery.
Patients typically prefer minimally invasive procedures
In a survey of 152 patients who received a microdiscectomy or transforaminal lumbar interbody fusion surgery, 87% of participants reported a preference for minimally invasive surgery over open spine surgery for future surgical procedures. 8 White CA, Patel AV, Butler LR, et al. Comparison of Patient Preference, Understanding, and Sentiment for Minimally Invasive Versus Open Spine Surgery. Spine (Phila Pa 1976). 2022;47(4):309-316. doi:10.1097/BRS.0000000000004134
A Series of Non-Surgical Treatments are Essential Before Surgery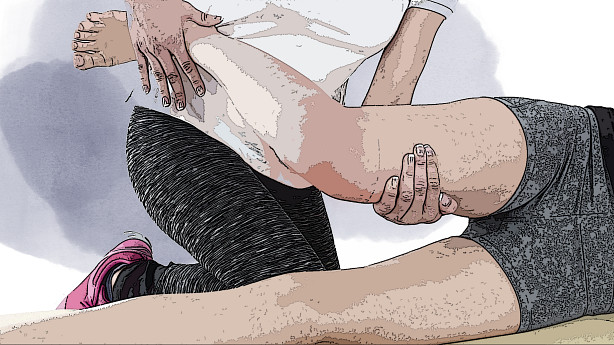 For most instances of low back pain, standard treatment guidelines recommend that non-surgical treatments must be tried before considering spine surgery. 9 Sharif S, Afsar A. Learning Curve and Minimally Invasive Spine Surgery. World Neurosurg. 2018;119:472-478. doi:10.1016/j.wneu.2018.06.094 The recommended guidelines are:
For acute or sub-acute back pain (when the duration of pain is less than 3 months), self-care measures such as rest and heat therapy may help find symptom relief. Oral medications for acute back pain include nonsteroidal anti-inflammatory drugs (NSAIDs) and skeletal muscle relaxants. Massage, acupuncture, or physical therapy may also be tried during this time. 9

Sharif S, Afsar A. Learning Curve and Minimally Invasive Spine Surgery. World Neurosurg. 2018;119:472-478. doi:10.1016/j.wneu.2018.06.094

For the vast majority of people, acute back pain improves over time regardless of treatment. 9

Sharif S, Afsar A. Learning Curve and Minimally Invasive Spine Surgery. World Neurosurg. 2018;119:472-478. doi:10.1016/j.wneu.2018.06.094

If acute back pain develops as a result of a direct injury or an accident, surgery may be considered in select patients.

For chronic back pain (when the duration of pain is more than 3 months), a combination of 2 or 3 non-surgical treatments may be tried, including NSAIDs, muscle relaxants, physical therapy and exercise, acupuncture, tai chi, yoga, and cognitive behavioral therapy. If these treatments fail to provide symptom relief, opioid medication may be considered in select patients if the potential benefits outweigh the risks. A discussion of the risks and benefits of opioid medication is essential between the physician and the patient. 9

Sharif S, Afsar A. Learning Curve and Minimally Invasive Spine Surgery. World Neurosurg. 2018;119:472-478. doi:10.1016/j.wneu.2018.06.094

If back pain continues and/or worsens after a series of non-surgical treatments are tried, surgery may be considered.
Additionally, a combination of postural correction, ergonomics, and regular stretching and exercise all play an important role in good back care and help lessen the chances of future episodes of back pain.
If the back pain starts to get better, the patient may resume normal activities in a gradual fashion, and it will not be necessary to consult a spine surgeon.
Deciding to Choose Surgery to Manage Back Pain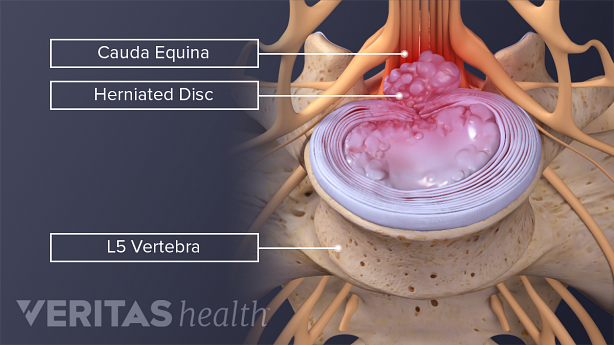 Back surgery is mostly elective—meaning that it is the patient's decision whether or not to have surgery after carefully weighing the procedure's potential benefits and risks. The spine surgeon should be able to give the patient enough information about the pros and cons of the procedure to assist the patient with his or her decision-making process. A spine surgeon can be an orthopedic surgeon or a neurosurgeon with advanced training in spine surgery.
In rare instances - such as cauda equina syndrome or an abdominal aortic aneurysm - immediate medical attention/surgical intervention is required.
The Multidisciplinary Approach of Spine Surgery
Deciding on back surgery is a multidisciplinary approach involving the surgeon and other healthcare practitioners (HCPs), such as a physiatrist, physical therapist, pain management specialist, and/or primary care physician. Numerous factors go into this decision-making process, and the goals and expectations vary from one patient to the other.
Watch Video: Questions to Ask Your Spine Surgeon
Before any decision is made on surgery, it is important to have a good understanding of what specifically is causing the symptoms and whether it can be surgically corrected. It is also important to discuss the expected surgical outcome with the surgeon.
1 Baliga S, Treon K, Craig NJ. Low Back Pain: Current Surgical Approaches. Asian Spine J. 2015;9(4):645-657. doi:10.4184/asj.2015.9.4.645
2 Yeung CM, Schoenfeld AJ, Lightsey HM 4th, Kang JD, Makhni MC. Trends in Spinal Surgery Performed by American Board of Orthopaedic Surgery Part II Candidates (2008 to 2017). J Am Acad Orthop Surg. 2021;29(11):e563-e575. doi:10.5435/JAAOS-D-20-00437
3 Mobbs RJ, Phan K, Malham G, Seex K, Rao PJ. Lumbar interbody fusion: techniques, indications and comparison of interbody fusion options including PLIF, TLIF, MI-TLIF, OLIF/ATP, LLIF and ALIF. J Spine Surg. 2015;1(1):2-18. doi:10.3978/j.issn.2414-469X.2015.10.05
4 Wipplinger C, Melcher C, Hernandez RN, et al. "One and a half" minimally invasive transforaminal lumbar interbody fusion: single level transforaminal lumbar interbody fusion with adjacent segment unilateral laminotomy for bilateral decompression for spondylolisthesis with bisegmental stenosis. J Spine Surg. 2018;4(4):780-786. doi:10.21037/jss.2018.10.01
5 Chang W, Yuwen P, Zhu Y, et al. Effectiveness of decompression alone versus decompression plus fusion for lumbar spinal stenosis: a systematic review and meta-analysis. Arch Orthop Trauma Surg. 2017;137(5):637-650. doi:10.1007/s00402-017-2685-z
6 Sharif S, Afsar A. Learning Curve and Minimally Invasive Spine Surgery. World Neurosurg. 2018;119:472-478. doi:10.1016/j.wneu.2018.06.094
7 Hockley A, Ge D, Vasquez-Montes D, et al. Minimally Invasive Versus Open Transforaminal Lumbar Interbody Fusion Surgery: An Analysis of Opioids, Nonopioid Analgesics, and Perioperative Characteristics. Global Spine J. 2019;9(6):624-629. doi:10.1177/2192568218822320
8 White CA, Patel AV, Butler LR, et al. Comparison of Patient Preference, Understanding, and Sentiment for Minimally Invasive Versus Open Spine Surgery. Spine (Phila Pa 1976). 2022;47(4):309-316. doi:10.1097/BRS.0000000000004134
9 Sharif S, Afsar A. Learning Curve and Minimally Invasive Spine Surgery. World Neurosurg. 2018;119:472-478. doi:10.1016/j.wneu.2018.06.094