Key Takeaways:
Spinal injection treatments, specialized forms of physical therapy and exercises, and complementary and alternative medicine (CAM) are some common alternatives to spine surgery.
Spinal injections can differ based on the underlying condition and include delivering a medicated solution, creating a heat lesion, or injecting an irritant into the painful tissue.
Physical therapy is an integral part of back pain treatment and may involve high intensity exercises or specialized exercises for specific conditions, such as Schroth exercise for scoliosis.
If surgery is not desired or not possible, surgical alternatives may be considered. Alternatives to spine surgeries include injection treatments, specialized forms of physical therapy and exercises, and complementary and alternative medicine (CAM).
In This Article:
Surgical alternatives to manage back pain and specific low back conditions are described below. This list does not cover all the potential surgical alternatives, and it is advisable for patients to consult with a pain management specialist, another surgeon, and/or other qualified healthcare practitioners to stay current on additional treatment options for their individual situation.
Surgical Alternatives to Treat Back Pain and Reduced Function
Most treatments that aim to relieve back pain focus on the specific anatomic area that is the cause of pain. However, some therapies such as mind-body techniques focus on training the mind to cope with pain by reducing overall stress and promoting relaxation.
Spinal injections
A variety of spinal injection options are available to treat spinal pain.
Spinal injections may work in one of the following ways:
Deliver a steroid or pain-relieving medication into the area that is the source of pain to reduce inflammation and numb the pain. Common examples include:
Create a heat lesion on a pain-transmitting nerve to prevent it from sending pain signals to the brain. This treatment is commonly known as radiofrequency ablation.
Injecting small amounts of a medicated solution (osmotic agents or irritants) into the target musculoskeletal tissue(s) over a period of several weeks with the goal of inducing tissue regeneration, promoting healing, and reducing pain. This treatment is commonly called prolotherapy but may also be referred to as ligament sclerotherapy or regenerative injection therapy. 1

Rabago D, Nourani B. Prolotherapy for osteoarthritis and tendinopathy: a descriptive review. Curr Rheumatol Rep. 2017;19(6):34. doi: 10.1007/s11926-017-0659-3

, 2

Bae G, Kim S, Lee S, Lee WY, Lim Y. Prolotherapy for the patients with chronic musculoskeletal pain: systematic review and meta-analysis. Anesth Pain Med. 2021;16(1):81-95. doi: 10.17085/apm.20078
Injections directly target the anatomic location that generates pain, which may provide more effective pain relief than oral medications.
High-intensity physical therapy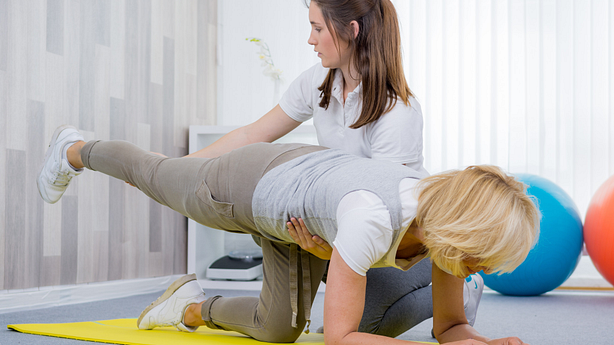 Physical therapy and exercise aim to improve the functioning of soft tissue and joints to build tissue resilience, muscle strength, and endurance.
Physical therapists may try more targeted, high-intensity (or aggressive) exercise treatments based on the level of spinal impairment with longer sessions lasting between 1 to 2.5 hours 2 to 3 times per week. 3 Thapa P, Euasobhon P. Chronic postsurgical pain: current evidence for prevention and management. Korean J Pain. 2018;31(3):155-173. doi:10.3344/kjp.2018.31.3.155 , 4 Delitto A, George SZ, Van Dillen L, et al. Low back pain. J Orthop Sports Phys Ther. 2012;42(4):A1-A57. doi:10.2519/jospt.2012.42.4.A1 , 5 Cohen I, Rainville J. Aggressive exercise as treatment for chronic low back pain: Sports Medicine. 2002;32(1):75-82. doi:10.2165/00007256-200232010-00004
Manipulation-based therapy
Spinal manipulation is a technique that treats back pain through the application of controlled force to the spinal joints.
The goal of spinal manipulation is to restore the spine's structural integrity, reduce pain, and initiate the body's natural healing processes.
Mind-body therapy
Mind-body therapy focuses on training the mind to become more in tune with its surroundings and experiences, and how they may be affecting the body's pain levels.
Mind-body techniques, which include deep breathing exercises, meditation, guided imagery, and cognitive behavioral therapy, can be helpful in relaxing the muscles and, to an extent, increasing one's sense of control over the pain.
Surgical Alternatives for Specific Back Conditions
Treatments that target specific spinal conditions are described below.
Schroth exercise
For young patients with idiopathic scoliosis, the Schroth method of exercise may help reduce the progression of scoliosis during adolescent growth.
Schroth exercises include sensorimotor, postural, and breathing exercises aimed at realigning the spinal posture, improving static and dynamic postural control, and increasing spinal stability. 6 Burger M, Coetzee W, du Plessis LZ, et al. The effectiveness of Schroth exercises in adolescents with idiopathic scoliosis: A systematic review and meta-analysis. S Afr J Physiother. 2019;75(1):904. Published 2019 Jun 3. doi:10.4102/sajp.v75i1.904
Vertebroplasty and kyphoplasty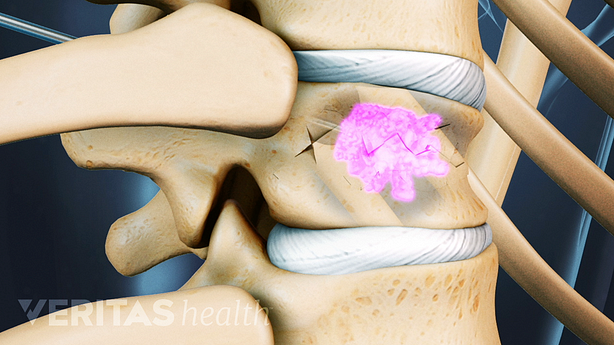 Vertebroplasty and kyphoplasty, are most commonly used in cases of severe, functionally disabling pain caused by a vertebral fracture that does not improve over a number of weeks with pain medication and lumbar bracing.
Both procedures involve the placement of cement into the fractured vertebra through small, minimally invasive incisions in the skin under X-ray guidance using fluoroscopy.
A physician trained in musculoskeletal and spinal pain can suggest the best surgical alternative for a given condition. Treatments are considered based on the patient's general health, the results of diagnostic and imaging tests, and the types of non-surgical treatments that have already been tried.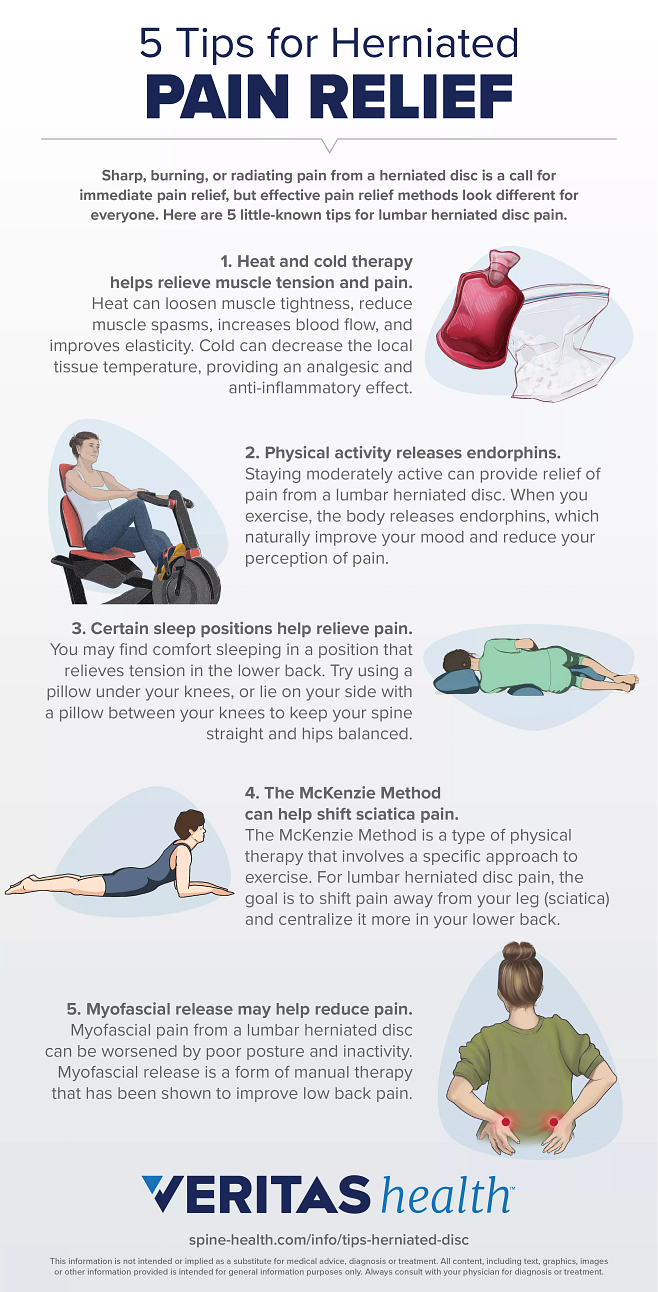 Sharp, burning, or radiating pain from a herniated disc is a call for immediate pain relief, but effective pain relief methods look different for everyone. Here are 5 little-known tips for lumbar herniated disc pain.
Heat and cold therapy help relieve muscle tension and pain. Heat can loosen muscle tightness, reduce muscle spasms, increase blood flow, and improve elasticity. Cold can decrease the local tissue temperature, providing an analgesic and anti-inflammatory effect.
Physical activity releases endorphins. Staying moderately active can provide relief of pain from a lumbar herniated disc. When you exercise, the body releases endorphins, which naturally improve your mood and reduce your perception of pain.
Certain sleep positions help relieve pain. You may find comfort sleeping in a position that relieves tension in the lower back. Try using a pillow under your knees, or lie on your side with a pillow between your knees to keep your spine straight and hips balanced.
The McKenzie Method can help shift sciatica pain. The McKenzie Method is a type of physical therapy that involves a specific approach to exercise. For lumbar herniated disc pain, the goal is to shift pain away from your leg (sciatica) and centralize it more in your lower back.
Myofascial release may help reduce pain. Myofascial pain from a lumbar herniated disc can be worsened by poor posture and inactivity. Myofascial release is a form of manual therapy that has been shown to improve low back pain.
This information is not intended or implied as a substitute for medical advice, diagnosis or treatment. All content, including text, graphics, images or other information provided is intended for general information purposes only. Always consult with your physician for diagnosis or treatment.