Pedicle screws are threaded titanium or stainless-steel implants that are fastened through the vertebral pedicles located at the back of the spinal bones. 1 Christensen FB, Dalstra M, Sejling F, Overgaard S, Bünger C. Titanium-alloy enhances bone-pedicle screw fixation: mechanical and histomorphometrical results of titanium-alloy versus stainless steel. Eur Spine J. 2000;9(2):97-103. doi:10.1007/s005860050218 Pedicle screws help secure rods and/or plates to the spinal segment(s) during a spinal fusion surgery.
The screws act as anchor points and are typically positioned at 2 or 3 consecutive spinal segments connected by a short rod.
In This Article:
Pedicle Screws for Spine Fusion
How Pedicle Screws Work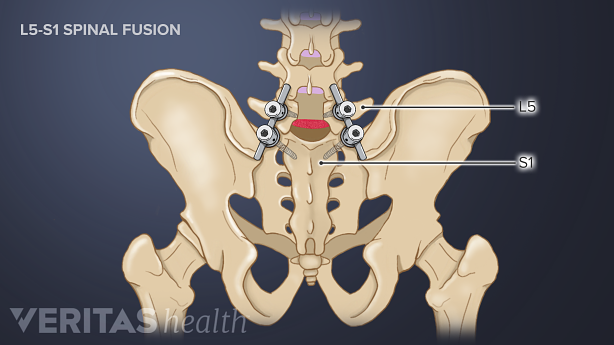 The standard surgical use of pedicle screws is in a rod-screw system, where the screws are placed on the left and right pedicles of the vertebrae to be fused and then connected using two rods on each side. This rod-screw system helps stabilize a spinal segment that is being fused by holding the vertebrae together.
The rods that are secured to the pedicle screws are typically cylindrical and rigid with a diameter of 6 mm, but more flexible rods may be designed with helical springs with diameters of 2 mm to 4 mm. 2 Kim K, Park WM, Kim YH, Lee S. Stress analysis in a pedicle screw fixation system with flexible rods in the lumbar spine. Proc Inst Mech Eng H. 2010;224(3):477-485. doi:10.1243/09544119JEIM611
After a successful fusion and when the bone graft grows, the screws and rods are no longer needed for stability and may be safely removed with subsequent back surgery. However, most surgeons do not recommend removal unless the pedicle screws cause discomfort for the patient.
Pedicle Screw Placement
Screws may be placed using free-hand techniques 3 Casillo SM, Agarwal P, Nwachuku EL, et al. Evaluation of free-hand screw placement in cervical, thoracic, and lumbar spine by neurosurgical residents. Clin Neurol Neurosurg. 2021;204:106585. doi:10.1016/j.clineuro.2021.106585 or by computer-assisted navigation. 4 Lange N, Meyer B, Meyer HS. Navigation for surgical treatment of disorders of the cervical spine - A systematic review. J Orthop Surg (Hong Kong). 2021;29(1_suppl):23094990211012865. doi:10.1177/23094990211012865 The diameter and length of screws vary and are usually determined using computed tomography (CT) scans taken before surgery.
While imaging technology, such as fluoroscopy and computed tomography are considered to have higher accuracy in placement, the free-hand technique used by an experienced surgeon may be less likely to result in damage to the side wall of the pedicle. 5 Gelalis ID, Paschos NK, Pakos EE, Politis AN, Arnaoutoglou CM, Karageorgos AC, et al. Accuracy of pedicle screw placement: a systematic review of prospective in vivo studies comparing free hand, fluoroscopy guidance and navigation techniques. Eur Spine J. 2012;21:247–55. Such damage increases the risk of injury to nearby blood vessels, such as the aorta.
Pedicle screws can also be placed via minimally invasive procedures through the skin, such as for the treatment of fractures or deformities in the spine. This type of placement is called percutaneous pedicle screw fixation.
Potential Risks and Complications of Pedicle Screw Fixation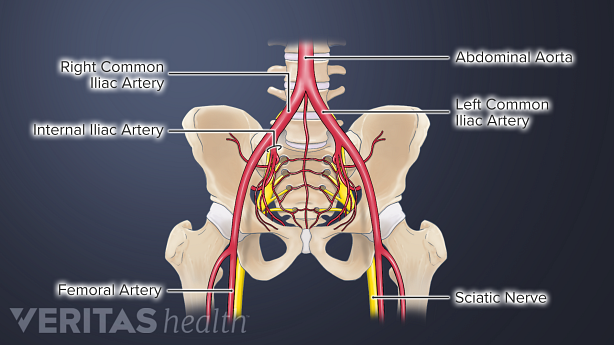 Generally, a complication from the pedicle screw is rare, occurring in about 6% of cases. 6 Zhao Q, Zhang H, Hao D, Guo H, Wang B, He B. Complications of percutaneous pedicle screw fixation in treating thoracolumbar and lumbar fracture. Medicine (Baltimore). 2018;97(29):e11560. doi:10.1097/MD.0000000000011560 The potential complications from pedicle screws typically include a problem with the rod-screw system or an injury to the adjacent tissues.
Screw breakage and loosening of the connecting rod
Rods that are secured to the pedicle screws are typically rigid and do not permit movement in the spinal segment. When these rigid rods are connected to vertebrae in highly flexible areas of the spine, such as the lower back, bending and twisting movements may increase the concentration of stresses in the region where the rods are secured to the screw. Eventually, the forces may cause a breakage of the screw at the point where the head of the screw is attached to its threaded body. The connecting rod may become loose and cause further instability and pain at the treated segment.
This risk may be reduced by using flexible rods, which permit restricted movements, while still allowing the vertebrae to remain stable and fusion to take place.
Septic loosening of the pedicle screw
Improper handling of the pedicle screws may lead to the development of low-grade infection at the site where the screw is fastened into the vertebral bone. 7 Agarwal A, Schultz C, Goel VK, et al. Implant Prophylaxis: The Next Best Practice Toward Asepsis in Spine Surgery. Global Spine J. 2018;8(7):761-765. doi:10.1177/2192568218762380 , 8 Agarwal A, Schultz C, Agarwal AK, Wang JC, Garfin SR, Anand N. Harboring Contaminants in Repeatedly Reprocessed Pedicle Screws. Global Spine J. 2019;9(2):173-178. doi:10.1177/2192568218784298  This infection or sepsis may cause the screw to become loose and cause pain. Removal of the screw is warranted in these cases. 9 Bratschitsch G, Puchwein P, Zollner-Schwetz I, et al. Spinal Surgery Site Infection Leading to Implant Loosening Is Influenced by the Number of Prior Operations. Global Spine J. 2022;12(3):458-463. doi:10.1177/2192568220957268
Pulmonary embolism
During surgery, a morsel of fat or bone marrow may dislodge and block the lung's blood vessels, causing pulmonary embolism. The risk of this type of embolism may be higher while using pedicle screws. 10 Takahashi S, Kitagawa H, Ishii T. Intraoperative pulmonary embolism during spinal instrumentation surgery. A prospective study using transoesophageal echocardiography. J Bone Joint Surg Br. 2003;85(1):90-94. doi:10.1302/0301-620x.85b1.13172
Cerebrospinal fluid leak
Incorrectly positioned pedicle screws may raise the risk of tearing through the dural sac (the membrane surrounding the spinal cord), causing the cerebrospinal fluid to leak. This complication can have serious consequences, including intracranial hypotension (low spinal fluid pressure in the brain) and intracranial bleeding (bleeding inside the skull). 11 Nowak R, Maliszewski M, Krawczyk L. Intracranial subdural hematoma and pneumocephalus after spinal instrumentation of myelodysplastic scoliosis. J Pediatr Orthop B. 2011;20(1):41-45. doi:10.1097/BPB.0b013e32833f33d1
Lateral wall perforation from pedicle screws
Near the pedicles, there are nerves, blood vessels, and muscles. If a pedicle screw punctures the lateral wall of the pedicle by passing through it, there is a risk of damage to these important structures over time. For example, cervical pedicle screws may injure neurovascular structures in the neck and thoracic pedicle screws may injure important blood vessels like the aorta. The perforation may go unnoticed or occur long after surgery. The rate of lateral wall perforation depends on several variables, including the placement technique used to the expertise of the surgeon.[ 5 Gelalis ID, Paschos NK, Pakos EE, Politis AN, Arnaoutoglou CM, Karageorgos AC, et al. Accuracy of pedicle screw placement: a systematic review of prospective in vivo studies comparing free hand, fluoroscopy guidance and navigation techniques. Eur Spine J. 2012;21:247–55.
Pedicle screws are essential to the fixation needs of spinal surgeries. Used in a variety of ways at nearly all levels of the spine, pedicle screws must be carefully positioned in a thoroughly planned manner to avoid associated risks and complications.
1 Christensen FB, Dalstra M, Sejling F, Overgaard S, Bünger C. Titanium-alloy enhances bone-pedicle screw fixation: mechanical and histomorphometrical results of titanium-alloy versus stainless steel. Eur Spine J. 2000;9(2):97-103. doi:10.1007/s005860050218
2 Kim K, Park WM, Kim YH, Lee S. Stress analysis in a pedicle screw fixation system with flexible rods in the lumbar spine. Proc Inst Mech Eng H. 2010;224(3):477-485. doi:10.1243/09544119JEIM611
3 Casillo SM, Agarwal P, Nwachuku EL, et al. Evaluation of free-hand screw placement in cervical, thoracic, and lumbar spine by neurosurgical residents. Clin Neurol Neurosurg. 2021;204:106585. doi:10.1016/j.clineuro.2021.106585
4 Lange N, Meyer B, Meyer HS. Navigation for surgical treatment of disorders of the cervical spine - A systematic review. J Orthop Surg (Hong Kong). 2021;29(1_suppl):23094990211012865. doi:10.1177/23094990211012865
5 Gelalis ID, Paschos NK, Pakos EE, Politis AN, Arnaoutoglou CM, Karageorgos AC, et al. Accuracy of pedicle screw placement: a systematic review of prospective in vivo studies comparing free hand, fluoroscopy guidance and navigation techniques. Eur Spine J. 2012;21:247–55.
6 Zhao Q, Zhang H, Hao D, Guo H, Wang B, He B. Complications of percutaneous pedicle screw fixation in treating thoracolumbar and lumbar fracture. Medicine (Baltimore). 2018;97(29):e11560. doi:10.1097/MD.0000000000011560
7 Agarwal A, Schultz C, Goel VK, et al. Implant Prophylaxis: The Next Best Practice Toward Asepsis in Spine Surgery. Global Spine J. 2018;8(7):761-765. doi:10.1177/2192568218762380
8 Agarwal A, Schultz C, Agarwal AK, Wang JC, Garfin SR, Anand N. Harboring Contaminants in Repeatedly Reprocessed Pedicle Screws. Global Spine J. 2019;9(2):173-178. doi:10.1177/2192568218784298
9 Bratschitsch G, Puchwein P, Zollner-Schwetz I, et al. Spinal Surgery Site Infection Leading to Implant Loosening Is Influenced by the Number of Prior Operations. Global Spine J. 2022;12(3):458-463. doi:10.1177/2192568220957268
10 Takahashi S, Kitagawa H, Ishii T. Intraoperative pulmonary embolism during spinal instrumentation surgery. A prospective study using transoesophageal echocardiography. J Bone Joint Surg Br. 2003;85(1):90-94. doi:10.1302/0301-620x.85b1.13172
11 Nowak R, Maliszewski M, Krawczyk L. Intracranial subdural hematoma and pneumocephalus after spinal instrumentation of myelodysplastic scoliosis. J Pediatr Orthop B. 2011;20(1):41-45. doi:10.1097/BPB.0b013e32833f33d1