Rising public concern over increased opioid medication use can make anyone with chronic pain feel caught in the crossfire—trying to find some degree of pain relief while braving a hail of new laws targeting opioid abuse.
See Chronic Pain As a Disease: Why Does It Still Hurt?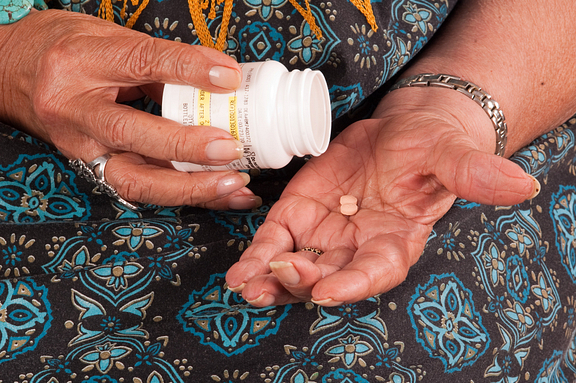 Tramadol is a type of narcotic medication often prescribed for moderate or moderately severe pain in adults. See
Tramadol (Ultram) Pain Reliever for Back Pain
If you've just been prescribed opioids (also called narcotics or painkillers) for the first time, all the restrictions on opioid prescriptions and refills may come as a shock. Here are several tips and guidelines to help prevent possible problems if you're taking these strong medications.
Managing Opioid Medications
Read on to get a handle on all the opioid requirements and limitations.
Keep prescription paperwork with you. You may need to rethink that handy weekly pillbox. Some states have laws requiring you to keep opioid medication in the bottle it came in—or keep a copy of the prescription with you—when you leave your home. People in various states have reported facing criminal charges when they were stopped by police for an unrelated issue and the police noticed their opioid medication was not in the labeled container from the pharmacy. Check the laws in your own state, or any state you're traveling in, to make sure you're not accidentally breaking a law.
Request a duplicate pill bottle. When the pharmacist fills your prescription, ask for a small duplicate container that's labeled for your prescription. The smaller bottle can be taken with you when you leave the house. Alternatively, request a duplicate label to keep handy in your purse or wallet.
Ask about telemedicine. If you live far from your doctor's office or have trouble getting off work for monthly appointments, ask your doctor about virtual options. Some doctors offer telemedicine, in which the doctor and patient communicate with each other electronically using a computer, iPad or cell phone. Telemedicine has been used for years by hospitals, and saves time for both doctors and patients. The doctor may still want to meet face-to-face for some visits.
Manage your stress. It's not easy having chronic pain, and stress can make the pain worse. Indulge yourself as often as possible in activities that make you feel better. A long, hot bath, watching a funny movie, or taking a stroll through a pretty park can take your mind off your pain and other problems for a while. Feeling empowered in your pain treatment can also help diminish stress, so take an active role in your own care.
Plan ahead with the doctor and pharmacist. If you're taking an opioid medication long-term, be sure to schedule your next appointment immediately after each appointment, before leaving the doctor's office. This ensures there are no problems getting the next appointment, and no interruptions in your care plan. To minimize problems, work with one pharmacy for all your prescriptions. Added regulations may limit pharmacists' flexibility, so do your best to avoid last-minute requests.
Be ready if pain spikes. Have a plan in place for dealing with unexpected pain. Ask your doctor what you should do if your pain flares or intensifies. Don't assume you should take more of your regular medication. Your doctor may recommend another medication for short-term relief.
Take your prescription to the ER. If you end up in the emergency room, remember to bring your prescription with you so the staff knows what medication you're taking and that you are taking the medication legally.
Be open to alternatives. Let your doctor know if you'd like to try an alternative pain relief strategy in addition to your opioid medication. Many people find complementary or alternative therapies, as well as daily exercise, effective in easing pain. Aqua therapy in a warm pool and massage therapy are two options to consider. Biofeedback, cognitive behavior therapy, and acupuncture may also be helpful. Exercise and activities such as meditation rev up your body's natural pain-relieving chemicals, called endorphins. Tapping these endorphins can also help reduce your reliance on prescription pain medications.
Carefully store your medication. There are two good reasons to keep your pills away from curious children or pets and those who might abuse the medication. First, some opioid medications could be deadly to others. Second, if you run out of medication earlier than expected, you may have trouble getting more. In some states, laws designed to curb abuse can make it difficult to replace lost or stolen opioid medication.
Discuss pain control before surgery. If you're planning surgery, be sure to talk to the doctor in advance about the best way to manage post-surgery pain. Pain control can be more difficult for those already taking painkillers before surgery. Taking opioids can also add to the risk of surgical complications.
Efforts to limit overprescribing and overuse of prescription painkillers require an increased awareness and understanding of risks and benefits when you're taking these medications. Staying informed on changing laws and procedures and allowing plenty of time to resolve any medication issues can help minimize problems.
See Opioid Medication Potential Risks and Complications
Learn more:
Back Pain Medication Overview: Understanding Medication for Back Pain Relief