Leg pain may occur due to problems with the arteries and/or veins in the leg. Blood vessels in the leg may occlude, get compressed, or become inflamed. Common conditions that cause leg pain due to blood vessel problems are discussed below.
Causes of Leg Pain and Foot Pain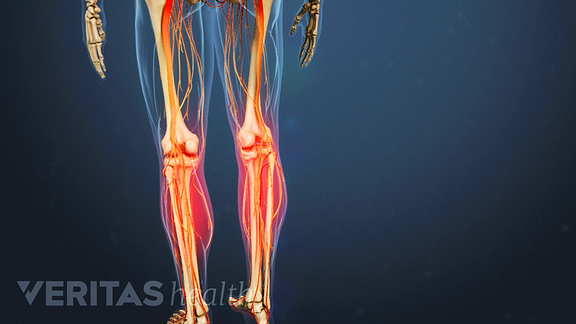 Save
Vascular claudication
Leg pain due to reduced blood supply is called vascular claudication. The condition occurs when one or more arteries in the leg are blocked, causing reduced or complete loss of blood supply to the leg muscles. Typical symptoms include1:
Pain in the feet that gradually spreads upward into the leg while walking; the pain is relieved once walking is stopped
Redness over the skin that is alleviated when the legs are propped up
Numbness and/or weakness in the affected leg
Vascular claudication may affect one or both legs at a time.
Deep vein thrombosis
A clot in a deep vein is called deep vein thrombosis. The symptoms depend on the extent and location of the clot and may include2:
Pain and tenderness in the leg or hip
Redness and tightness of the skin over the leg
Warmth and swelling in the affected areas
The condition may become serious if the blood clot gets dislodged and is carried through the bloodstream to other organs, such as the lungs (pulmonary embolism).
Deep vein thrombosis may also begin as bulging or varicose veins causing an achy pain and itching in the leg.3 These veins are more superficial and have a spider-like appearance.
Chronic exertional compartment syndrome
Increased pressure within the bundles of muscle tissue or compartments in the leg may cause leg and foot pain. Symptoms mostly include4:
Pain that often starts while exercising or working out and resolves with rest
Numbness and tingling in the affected leg
Weakness in the ankle muscles causing the foot to 'slap' on the ground while walking
As the condition progresses, pain may also occur at rest.
Blood vessel problems in the leg(s) commonly occur due to trauma, advanced age, and the presence of certain underlying conditions, such as diabetes or obesity. A medical professional can help diagnose the cause and type of the blood vessel disorder. Early treatment may help control and prevent the progression of pain.
References
1.

Grimm BD, Blessinger BJ, Darden BV, Brigham CD, Kneisl JS, Laxer EB. Mimickers of Lumbar Radiculopathy. Journal of the American Academy of Orthopaedic Surgeons. 2015;23(1):7-17. doi:10.5435/jaaos-23-01-7

2.

Kruger PC, Eikelboom JW, Douketis JD, Hankey GJ. Deep vein thrombosis: update on diagnosis and management. Medical Journal of Australia. June 2019. doi:10.5694/mja2.50201

3.

Lin F, Zhang S, Sun Y, Ren S, Liu P. The management of varicose veins. Int Surg. 2015;100(1):185–189. doi:10.9738/INTSURG-D-14-00084.1

4.

Burrus MT, Werner BC, Starman JS, et al. Chronic Leg Pain in Athletes. The American Journal of Sports Medicine. 2014;43(6):1538-1547. doi:10.1177/0363546514545859