Dysfunction in the sacroiliac joint, also called the SI joint, can sometimes cause lower back and/or leg pain. Leg pain from sacroiliac joint dysfunction can be particularly difficult to differentiate from radiating leg pain caused by a lumbar disc herniation (sciatica) as they can feel quite similar.
For decades, the sacroiliac joint was suspected as a common cause of low back and/or leg pain, although difficulty in accurate diagnostic testing left many in the medical profession skeptical. Today it is estimated that the sacroiliac joint is responsible for 15% to 30% of lower back pain cases. 1 Cohen SP, Chen Y, Neufeld NJ. Sacroiliac joint pain: a comprehensive review of epidemiology, diagnosis and treatment. Expert Rev Neurother. 2013 Jan; 13(1):99-116.
In This Article:
Sacroiliac Joint Dysfunction (SI Joint Pain)
Anatomy of the Sacroiliac Joint
The sacroiliac joint connects the hip bones (iliac crests) to the sacrum, the triangular bone between the lumbar spine and the tailbone (coccyx). The primary function of the sacroiliac joints is to absorb shock between the upper body and the pelvis and legs.
The sacroiliac joint typically has little motion. Small movements at the joint help with shock absorption and forward/backward bending. The joint is reinforced by strong ligaments surrounding it, some of which extend across the joint in the back of the pelvis. This network of soft tissues provides support, limits movement at the joint, and assists with absorbing pressure.
Other muscles that support sacroiliac joint function include the gluteus maximus and the piriformis muscle.
Sources of Sacroiliac Joint Dysfunction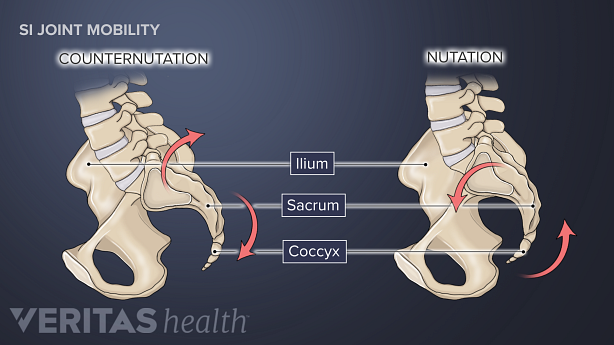 The primary mechanisms of SI joint dysfunction include:
Too much movement (hypermobility or instability) in the sacroiliac joint can cause the pelvis to feel unstable and lead to pain. Pain from too much motion is typically felt in the lower back and/or hip, and may radiate into the groin area.
Too little movement (hypomobility or fixation) can cause muscle tension, pain, and may inhibit mobility. Pain is typically felt on one side of the low back or buttocks, and can radiate down the back of leg (similar to sciatica pain ).
Inflammation of the sacroiliac joint (sacroiliitis) can also produce pelvic pain and stiffness. Sacroiliac joint dysfunction may cause inflammation, or inflammation may occur with normal function of the joint from an infection, rheumatoid condition, or other cause.
Sacroiliac joint dysfunction is more common in young and middle-aged women. Women who are pregnant or have recently given birth may be more susceptible to sacroiliac joint pain. 2 McGrath C. Clinical considerations of sacroiliac joint anatomy: a review of function, motion and pain. Journal Osteopathic Medicine 2004; 7(1):16-24
1 Cohen SP, Chen Y, Neufeld NJ. Sacroiliac joint pain: a comprehensive review of epidemiology, diagnosis and treatment. Expert Rev Neurother. 2013 Jan; 13(1):99-116.
2 McGrath C. Clinical considerations of sacroiliac joint anatomy: a review of function, motion and pain. Journal Osteopathic Medicine 2004; 7(1):16-24