The L3-L4 spinal motion segment is typically treated with nonsurgical methods. Tumors, infections, and/or other causes of severe nerve root compression with significant neurological deficits may be treated surgically.
Nonsurgical Treatments for L3-L4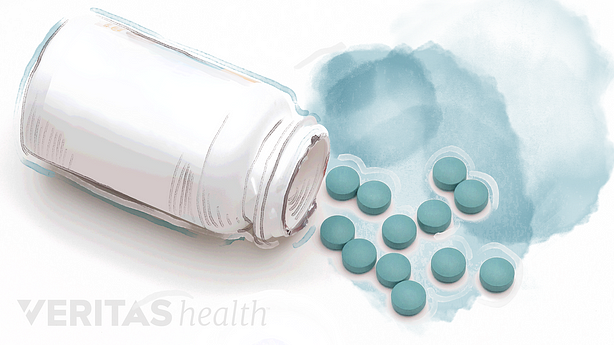 Treatment of the L3-L4 motion segment usually involves one or more of the following methods:
Self-care measures, such as using correct posture while standing, sitting, walking, lying down, and lifting items off the floor is important to maintain a normal spinal curvature, minimize stresses, and facilitate healing.
Surgical Treatments for L3-L4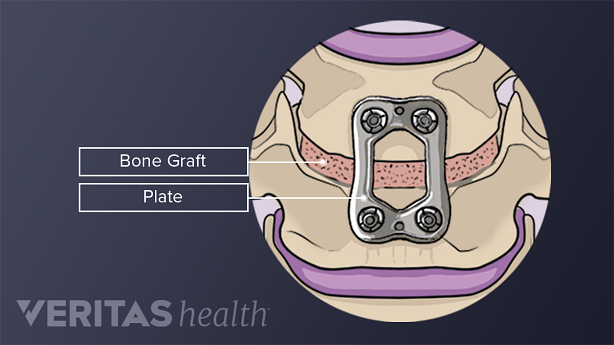 The goal of lumbar spine surgery is typically aimed at relieving compression of a nerve root and/or the cauda equina.
Surgical options may include:
Laminectomy. The lamina (area of bone at the back of the vertebra) is removed in order to provide more room for the cauda equina.

See Lumbar Laminectomy Surgery for Spinal Stenosis (Open Decompression)

Foraminotomy. The opening for the spinal nerve root (intervertebral foramen) is enlarged by trimming bony overgrowth, relieving nerve compression.
Microdiscectomy. A small part of the disc material near the nerve root is taken out. A portion of the bone adjacent to the nerve root may also be trimmed to relieve compression.
Facetectomy. Trimming and/or removing a part of the facet joints and/or bony overgrowths to relieve nerve root compression.
Fusion of L3-L4. Depending on the extensiveness of the surgery and the amount of bone removed, the surgical segment may be fused with the adjacent motion segment to provide stability.
Lumbar artificial disc replacement. This surgery is not very common and includes a complete replacement of the lumbar intervertebral disc to relieve nerve root compression and replace it with an artificial implant.

See Lumbar Artificial Disc Replacement for Chronic Back Pain
As with any surgery, there is always a small risk of serious complications, such as infection, nerve injury, excessive bleeding, or severe allergic reaction. Before deciding to have surgery, it is important to discuss the risks and alternatives to surgery with the surgeon. It is also important to understand the possible complications if surgery is not performed.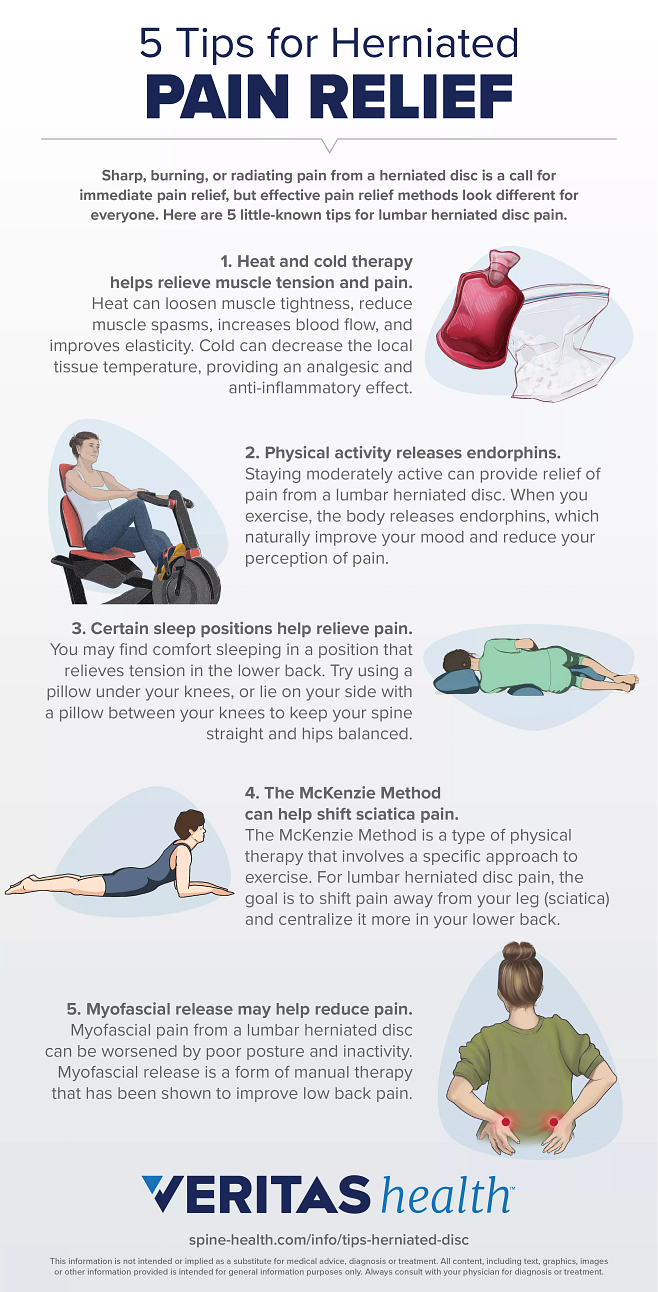 Sharp, burning, or radiating pain from a herniated disc is a call for immediate pain relief, but effective pain relief methods look different for everyone. Here are 5 little-known tips for lumbar herniated disc pain.
Heat and cold therapy help relieve muscle tension and pain. Heat can loosen muscle tightness, reduce muscle spasms, increase blood flow, and improve elasticity. Cold can decrease the local tissue temperature, providing an analgesic and anti-inflammatory effect.
Physical activity releases endorphins. Staying moderately active can provide relief of pain from a lumbar herniated disc. When you exercise, the body releases endorphins, which naturally improve your mood and reduce your perception of pain.
Certain sleep positions help relieve pain. You may find comfort sleeping in a position that relieves tension in the lower back. Try using a pillow under your knees, or lie on your side with a pillow between your knees to keep your spine straight and hips balanced.
The McKenzie Method can help shift sciatica pain. The McKenzie Method is a type of physical therapy that involves a specific approach to exercise. For lumbar herniated disc pain, the goal is to shift pain away from your leg (sciatica) and centralize it more in your lower back.
Myofascial release may help reduce pain. Myofascial pain from a lumbar herniated disc can be worsened by poor posture and inactivity. Myofascial release is a form of manual therapy that has been shown to improve low back pain.
This information is not intended or implied as a substitute for medical advice, diagnosis or treatment. All content, including text, graphics, images or other information provided is intended for general information purposes only. Always consult with your physician for diagnosis or treatment.