Lumbar Herniated Disc
The Essential Guide to Finding Back Pain Relief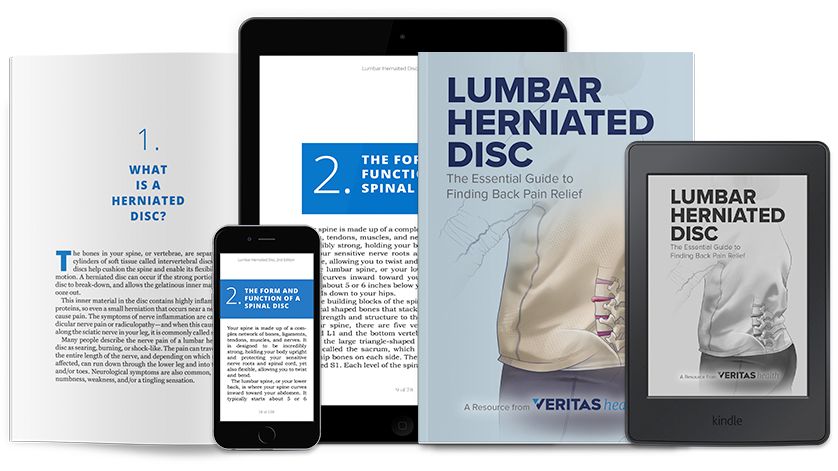 ---
About this Book
You may know a lumbar herniated disc by its many names: slipped disc, bulging disc, or ruptured disc. Or you may know it by its most common symptom: the burning, radiating leg pain known as sciatica.
If you are afflicted by this common lower back problem, you will benefit from learning as much as you can about your condition and how it can be treated.
That's where this book comes in. Compiled from the best doctor-authored, peer-reviewed articles of Spine-health, this book includes information about spine anatomy, how lumbar herniated discs are diagnosed, and—most importantly—what treatment options are available to ease pain and restore quality of life.
Contents
Videos
Exercises
Self-care options
Surgery options
When to see a doctor
Purchase this book
---
What People are Saying
The most comprehensive approach to manage herniated disc pain is from obtaining multiple perspectives from both surgeons and non-surgeons. This book offers just that! ... a 'one-stop-shop' where you can look at all of your options in ONE PLACE, which will allow you to make an informed decision as to what is BEST for you!

— Steven G. Yeomans, DC
Board Certified Orthopedist
If you have sciatica from a lumbar herniated disc, make sure you read this book - it will give you all the insights and practical information you need to find pain relief

— Stephen H. Hochschuler, M.D.
Orthopedic Spine Surgeon and Co-founder of Texas Back Institute
I have multiple levels of herniated discs in lumbar, thoracic and cervical spine. I read this book and found it full of info that I wish I had 20 years ago when I first herniated my lumbar discs. It's a great read and easy to understand. I would recommend that anyone with disc issues read it.

— Margaret
Amazon Review
---
About the Editor

The CEO and co-founder of Veritas Health, publisher of Spine-health, Stephanie shares the goal of providing intelligent, unbiased and highly relevant medical information and community support for people dealing with a wide range of pain conditions and related issues, including back pain, arthritis, fibromyalgia, depression, osteoporosis, sleep disorders, exercise, diet and more.
Additional Info
ISBN: 978-0-9965175-0-8
Paperback: 59 pages
Published: First Ed. November 12, 2014; Second Ed. September 2015