The following is a
Sponsored Resource
. The sponsor of this content has sole editorial control.
Understanding Epidural Steroid Injections For Lower Back Pain and Sciatica
Is lower back pain or sciatica pain causing enough discomfort, interruption, and limitations in your everyday life that you're exploring non-surgical treatments?
A potential option to consider is an epidural steroid injection.
Epidural steroid injections target the painful inflammation – most often in the lower back or legs – that may be resulting from such conditions as:
Epidural Steroid Injection: How it Works
1
An injection in your lower spine delivers anti-inflammatory steroid medication directly into the epidural space, near the source generating pain.
2
Inflammation is usually a source of pain, and steroids function as strong medication designed to reduce the inflammation in the local area.
3
The additional fluid in the injection, such as local anesthetic or saline solution, is designed to "flush out" inflammatory chemicals.
4
While the effects of the injection are not permanent, its intention is to provide immediate relief of severe pain, lasting from one week up to one year.
About Epidural Steroid Injection Procedures
An epidural steroid injection procedure usually takes 15 to 30 minutes; you will typically be held for monitoring an additional 15 to 20 minutes.
There is not yet a consensus determining precisely how frequent epidural steroid injections are to be administered, though a limit of up to 3 a year is often considered the standard.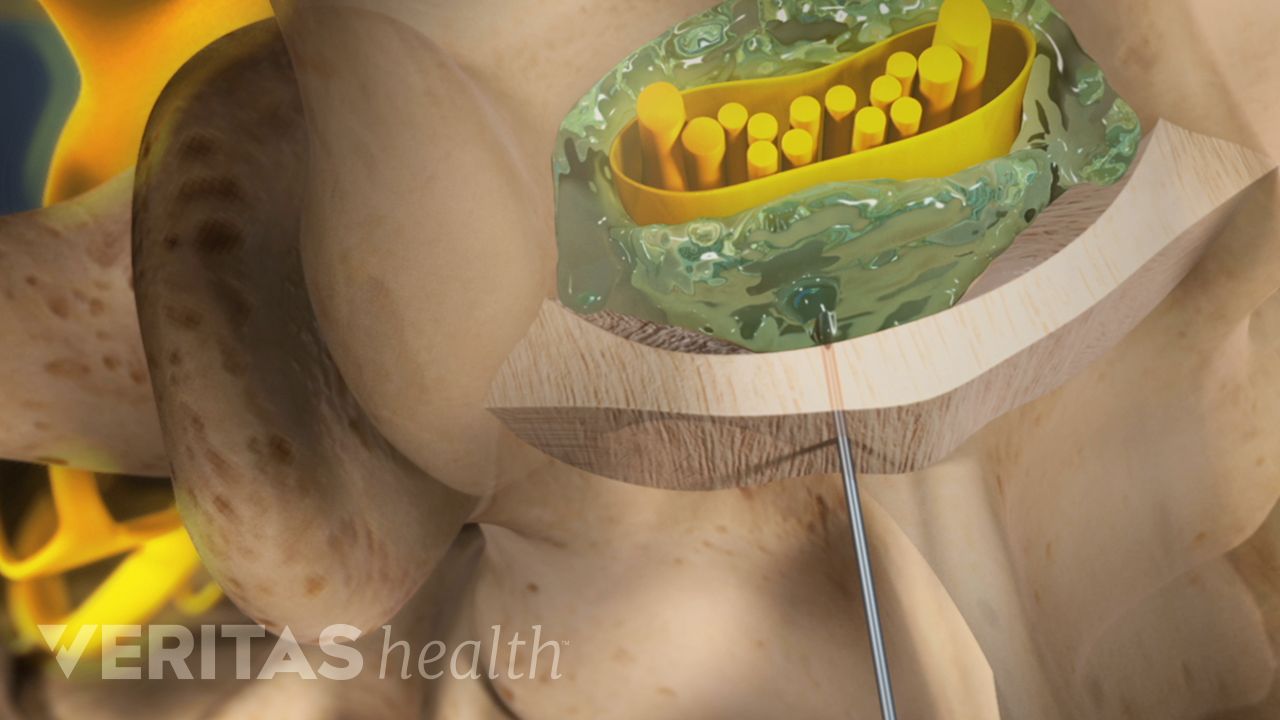 Advantages of Epidural Steroid Injections
The injection has a targeted focus on the source of your pain, whereas oral steroid or painkillers have a less-concentrated impact.
It has the potential to provide you with enough relief that you can begin or continue exercise regimens or physical rehabilitation that may be part of your treatment plan.
It is an outpatient procedure and is not usually uncomfortable or painful to receive.
How Resurgens Spine Center Can Help
If you're considering treatment options for your lower back or sciatica pain, and you want to discuss epidural steroid injections with leading spine specialists, discover the benefits of choosing Resurgens Spine Center:
As a premier spine care destination, Resurgens Spine Center features 23 state-of-the-art facilities, providing cutting-edge care and sophisticated, minimally invasive surgery.
The center offers comprehensive non-surgical treatment options, such as epidural steroid injections, individually tailored to meet your needs.
Physiatrists utilize advanced fluoroscopic guidance in order to maximize the precision of injections.
The center's team of physical medicine and rehabilitation physicians will work closely and patiently with you, helping you return to an active life.
Resurgens Spine Center is determined to provide you with outstanding spine care, so you can get back to a mobile and comfortable lifestyle.