This has been one question that has come up countless of times. So, instead of posting as a reply to a member's question, I am included it in our FAQ.
Problem
Any prolonged sitting activity (computer work, admin work, sitting in a car, etc) can cause discomfort in many different spinal areas. You can get lower back pain, your shoulders and neck can start to burn, your legs get restless, etc. You all the feeling
Solutions
I wish someone could come up with one solution that would solve it all, but unfortunately there isnt. Who ever came up with the office environment did not take a person's spine into consideration.
How to deal with the office enviroment
I spent about 3 years while working with IBM to come up with the best ergonomic workstation setup .
We looked at everything. The keyboard, monitor height, etc. My main focus was to come up with the perfect chair. Since I had several Lumbar and Cervical surgeries, I could offer the most input and testing. I worked with a Physical Therapist, a neurosurgeon and a chair manufacturing. The chair we did come up attempted to address all spinal areas, plus arm, wrist supports, etc.
It was ugly. In many ways it was the forerunner to many of those office chairs you see today with multiple adjustments.
The outcome? While it did help, I really didnt get any more relief or reduction of discomfort using this chair.
Bottom line: The only thing that really worked was
- Getting up at least every 50 minutes to take a 10 minute break
- That included Walking and Stretching
- Never go over 100 minutes without doing this
While that didn't eliminate the discomfort and went far as a means to reduce the discomfort (without medications)
The Best Chair
As I mentioned above, the chair did not do what it was suppose to do. Back when it was designed and produced (1987), it cost about $1900 to make. I had the first chair. I haven't seen it since I left Poughkeepsie, but I imagine its in some
storage room. The last 5 years with IBM, I work from home exclusively. It was easier to do my 10 minute breaks, but
I found while I could do them, I didn't This goes along with work from home dynamics. I still believe working from home, you can get a lot more done than you can in the office. (assuming you have tasks that do not require face to face contact)
I finally tried this: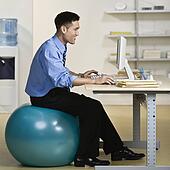 That did take some getting used to. It was hard from falling side to side and forget about backwards. But in a short time,
I was comfortable. And as you see in the picture, sitting on a ball like that requires
perfect posture
There really isnt one complete answer. But the one thing you need to remembering is to
GET UP , WALK and STRETCH every 50 minutes
Some people have asked me,
If I do that, my company is not going to be happy with all those work breaks
Perhaps, but when I look back to the number of days and weeks I was out of work because of a flareup directly related to office work, any one would agree to take those breaks!