Welcome, Friend!
It looks like you're new here. If you want to get involved, click one of these buttons!
Veritas-Health LLC has recently released patient forums to our Arthritis-Health web site.
Please visit
http://www.arthritis-health.com/forum
There are several patient story videos on Spine-Health that talk about Arthritis. Search on Patient stories
Protect anonymity
We strongly suggest that members do not include their email addresses. Once that is published , your email address is available to anyone on the internet , including hackers.


Notice
All discussions and comments that contain an external URL will be automatically moved to the spam queue. No external URL pointing to a medical web site is permitted. Forum rules also indicate that you need prior moderator approval. If you are going to post an external URL, contact one of the moderators to get their approval.
Attention New Members
Your initial discussion or comment automatically is sent to a moderator's approval queue before it can be published.
There are no medical professionals on this forum side of the site. Therefore, no one is capable or permitted to provide any type of medical advice.
This includes any analysis, interpretation, or advice based on any diagnostic test
3 weeks shy of one year lumbar fusion anniversary
Well gosh it feels like it's been an eternity since I've posted, and I know for sure it's been several months. I've just had a ton going on my life this year, mostly getting things back on track after a few years of pain, surgery, etc.
But now, I couldn't be happier to report that life is good! Seems that everything is slowly working itself out, and I have managed to get back to a truly good quality of life for the first time in at least 3 yrs!
The biggest victory for me of course has been my recovery from 2-level lumbar fusion surgery. A year ago today I was unable to walk more than about 5 feet without a cane, and was eating oxycontin, percocet and gabapentin like tic tacs. Now it's been close to 10 months since I've even bothered using an ice pack for my back, and haven't even taken a tylenol for it. I have also spent every Sunday for the past 2+ months hiking up to 7 miles! Given all I've been through, and things like having not even done a minute of physical therapy post-surgery, I have to say I feel like one of the luckiest women on Earth!
I hope that I can serve as a positive example for those facing pain and surgery. There are success stories out there and I am proof! And I can't thank the SH community enough for all of the support they gave me through some of the roughest times of my life! Good luck and good health to all!
P.S. Here are some pictures I hope some of you will enjoy!
Me near the top of a 3 mile hike/climb
Waterfall at the top of about a 5 mile hike
Waterfall at the top of a 3 mile hike and additional 1 mile off trail climb...and I mean climb not hike lol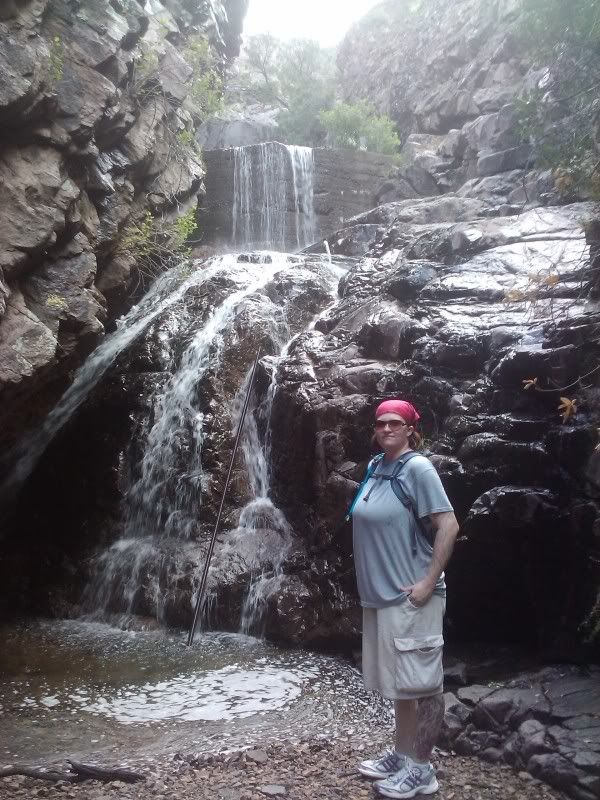 And finally..views like this drive me to push myself further and harder every day!