My primary symptoms now are frequent clicking (or popping) sounds from my spine area, but I'll get to that. First the background.
Hi, I live in Australia, and had a great life until I hit age 55. I did regular aerobic exercise (fitness walking, elliptical exercise machine, Leslie Sansone walking exercise videos). Then 6 months ago a frozen shoulder began developing in my dominant right arm. Ten weeks ago, the acute back pain started. Started acute onset as I was getting up from a chair (i.e., moving to stand from a sitting position). It was a finger-length line of pain in the left lumbar just above the buttocks and just left of the spine. Symptoms were pain in lower left sometimes as I get up from sitting, sit down, move around in bed, sometimes while walking. I must admit that I had a dull mild broad lumbar area occasional ache that felt muscular before the acute incident, so maybe the acute incident was the trigger but not the full cause. I thought mild back problems heal on their own in a short time, so after the acute onset I just tried to avoid aggravating it by moving slowly and carefully.
The pain hadn't gone away for six weeks, so I saw a physiotherapist whose diagnosis after a one hour exam was: non specific low back pain but caused by L5 motion segment strain. This physiotherapist thought the ultimate cause of the muscle strain was bad posture. His opinion is that my thoracic area is stiff and khifosis, and my gluteal muscles and abdominal muscles are weak so that puts strain on my lumbar region. Specifically, the cause is lumber spine extension dysfunction and throracic spine extension/rotation movement restriction. He assigned simple glute exercise, and postural correction emphasising activating the transversus abdominus muscle.
My family doctor had me get an Xray and MRI on 27 October. The results were (sorry for the length but I will type it in verbatim).
-------------------------------------
XRAY
Findings: There is a minor narrowing of the lumbosacral disc. There are degenerative changes in the lower lumbar facet joints with subarticular sclerosis. There is a curve of the lumbar spine convex to the left. The sacroiliac joints are normal. There are no destructive bone lesions. There is an anomalous segmentation with six apparent lumbar segments. There is noted to be a retrolisthesis of what is taken to be L5 on L6.
MRI
Findings: There is a loss of disc signal in the L1/2 disc in keeping with degenerative change. There are multilevel degenerative facet joint changes.
The L5/6 level there is a concentric annular bulge no associated with significant canal, lateral recess, or exit foramen narrowing. At all other levels the canal and exit foramen are of normal dimension. There are no focal disc protrusions. The nerve roots of the cauda equine are normally distributed with the thecal sac where the conus lies at L1 with no signal abnormality.
Overall comment: Bulging discs at L5/6 and L4/5. No significant disc protrusions, spinal canal stenosis or lateral recess or exit foramen narrowing. Multilevel degenerative facet joint disease. This is most marked at L5/L6.
-------------------------------------
My family doctor's conclusion from the Xray/MRI report was that this was fairly typical for a 55 year old, therefore my problem was simply core muscle weakness otherwise simply standing up from sitting would not have caused an injury. In other words, he did not see an identifiable objective source to the problem.
He referred me to another physiotherapist that I have been seeing regularly. She finds tightness in my left paraspinal muscles. Again, the prescription (it seems it is physiotherapists' standard prescription) is slowly begin abdominal and gluteal muscle activation and strengthening to improve posture and improve core strength.
Relatedly, I had a gluteal muscle soreness commence two weeks ago, and also had calf muscle problems. The first physiotherapist said these were primarily radiculopathies due to pressure on the nerve from my low back problem (though the MRI report found no nerve impingement). The gluteal and calf problems are easing now. With several musculoskeletal ailments simultaneously, I asked if there could be an underlying medical condition, but had a blood test, including testing for diabetes and thyroid problems, but these were negative (no underlying medical condition found).
Now to the current issue that is scaring me. Then about two weeks ago there was a new development. I started getting frequent clicking sounds in my spine primarily when I got up from sitting into standing. At first these were mild, but last Saturday night there was an enormous double click that scared me as I got up out of the chair after watching TV. This left a continuing impression of tightness/soreness in the lower lumbar and sacral spine. I saw the physiotherapist on Monday, and she said she could feel tension/stiffness there. It's not really pain. At other times the clicking is in the upper lumbar or even thoracic spine.
I learned a trick that has reduced the frequency and intensity of clicking somewhat. It is getting up from seated by sliding your butt off the chair then lifting with your legs, so that your spine stays straight and does no lifting. I learned it from here: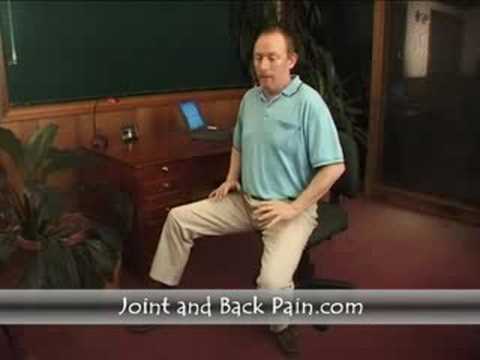 Osteopath Bruce Sutton demonstrates this technique in the video.
Nevertheless, I am still susceptible to clicking. This can't be good. Also, I cannot find a comfortable way to sit and watch TV. Here is my clicking diary for last night, to provide some specifics. Big click 9:20pm getting out of TV chair even using the sliding technique. Lifting both legs in bed while supine 10pm for a big click. Laid on my back for a while but couldn't sleep so got up and read. Another click sliding to stand from chair, 11:13pm. Another click this time just taking a step 11:17pm. I just now got a mild click in my spine as I write this due to shifting slightly in my chair.
Has anyone had similar clicking problems? Anyone want to guess what's happening?
I realise that many people in this forum have much worse problems, but I'd like to try to nip the back problems in the bud here before they get worse. I fear I am not getting better but possibly getting worse with this new development (the clicking). The clicking seems to be a secondary development to the original back problem. Note that I never had clicking in my spine before this recently started. I am left in the situation of not understanding what is happening to me.
Thank you very much.
Frank321