Welcome, Friend!
It looks like you're new here. If you want to get involved, click one of these buttons!
In this Discussion
Veritas-Health LLC has recently released patient forums to our Arthritis-Health web site.
Please visit
http://www.arthritis-health.com/forum
There are several patient story videos on Spine-Health that talk about Arthritis. Search on Patient stories
Protect anonymity
We strongly suggest that members do not include their email addresses. Once that is published , your email address is available to anyone on the internet , including hackers.


Notice
All discussions and comments that contain an external URL will be automatically moved to the spam queue. No external URL pointing to a medical web site is permitted. Forum rules also indicate that you need prior moderator approval. If you are going to post an external URL, contact one of the moderators to get their approval.
Attention New Members
Your initial discussion or comment automatically is sent to a moderator's approval queue before it can be published.
There are no medical professionals on this forum side of the site. Therefore, no one is capable or permitted to provide any type of medical advice.
This includes any analysis, interpretation, or advice based on any diagnostic test
Sore back for years, x-rays paint a new picture
So, I've always sort of had an achy upper back for as long as I can remember. I was always told to sit up straight etc. etc. Over the past 7 months or so it's gotten progressively worse and my neck has been troublesome also. I finally went to see a new chiropractor who gave me a full spinal x-ray including my neck. My neck x-ray showed a loss of cervical lordosis which explains the neck issues. I'm not so concerned about that as I've been told it's fixable and I'm already feeling better with a combo of chiropractor and adjusting how I sleep.
My biggest concern now is for my back. Below is the x-ray:
">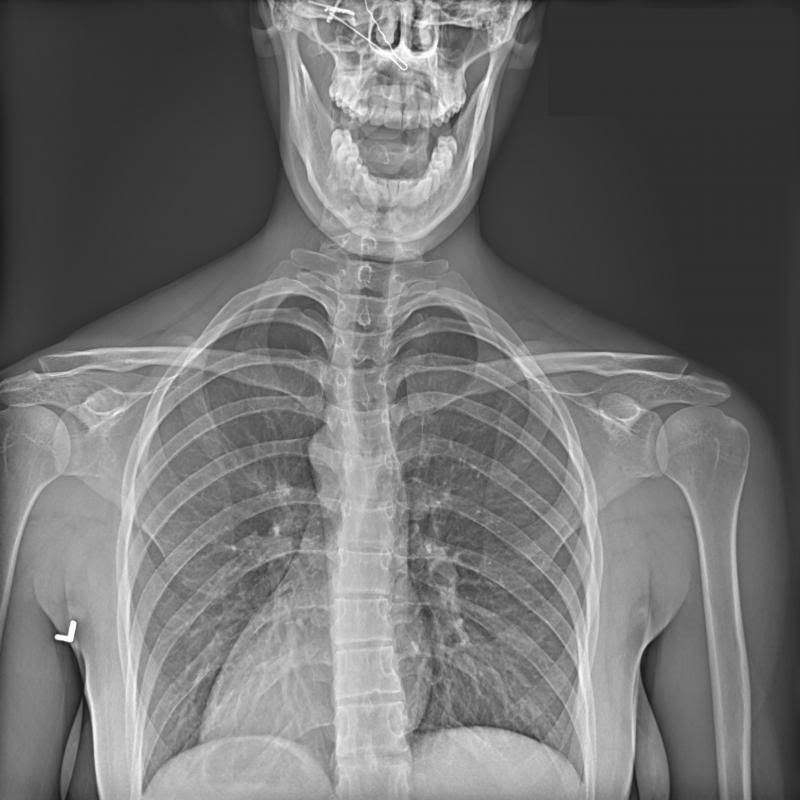 So I know in the grand scheme of things (or at least after browsing the forum and googling images that's how it seems) that what's going on here isn't terrible, but I know it's not good. And it doesn't feel good. The area between my shoulder blades, particularly on the right hand side just burns and aches when I'm at work. I do work at a computer all day, something I am hoping to change in the future but for right now I'm stuck with it. Over the past 2 weeks it's been getting progressively worse to the point where I'm squirming and readjusting all shift and I can't make it a full 8 hour without icing my back. Last night ice didn't even help. The area around my right shoulder blade felt incredibly tight and very uncomfortable. Ice didn't help at all. I had to stop working and went home early. As I drove home my right arm started to hurt and just felt heavy. Sleep wasn't awesome and as I sit here typing this I am in quite a bit of discomfort. I'm near my breaking point! I can't make it through work anymore, and some days I don't even know how I manage it. I make every effort to sit properly but it doesn't seem to help.
I know there are no doctors here, and I'm going to see mine next week to see if I can get something for the pain and a referral to a specialist, but I'm curious if anyone has experienced something similar or has had x-rays that looked somewhat similar to mine. I feel like I'm walking around in the dark and it's very scary and frustrating.