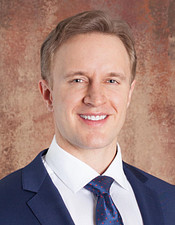 Benjamin Bjerke, MD
Orthopedic Surgeon
Dr. Benjamin Bjerke is an orthopedic surgeon. He specializes in minimally invasive and motion-preserving spine surgery.
Dr. Bjerke has written articles published in medical journals, such as the Global Spine Journal, The Spine Journal, and the Journal of Spinal Disorders and Techniques, and he is a reviewer at the Bone and Joint Journal. He has coordinated several research projects on orthopedic surgery and has delivered numerous presentations at medical conferences and meetings.
In addition to his research, Dr. Bjerke has volunteered as a spine surgeon to treat spinal diseases in Ghana in Africa. He has also served as a team physician for the US Freestyle Ski Team and at the XGames in Aspen, CO.
Select Professional Memberships and Achievements
Member, North American Spine Society
Member, American Academy of Orthopaedic Surgeons
Board Certification
American Board of Orthopaedic Surgery
Education
BS – Chemistry, University of Wisconsin-Madison
MS – Organic Chemistry, University of California, Los Angeles
MD – Columbia University College of Physicians and Surgeons
Residency – Orthopedic Surgery, Hospital for Special Surgery, Cornell University
Fellowship – Neurosurgery and Orthopedic Spine Surgery, Mayo Clinic
Author profile last updated