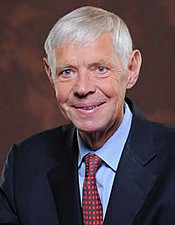 Gunnar Andersson, MD, PhD
Orthopedic Surgeon
Dr. Gunnar Andersson is a retired orthopedic surgeon who has more than 30 years of experience specializing in spine surgery.
He practiced at Rush University Medical Center, where he also served as Chairman of the Department of Orthopaedic Surgery and the President of the Medical Staff.
Dr. Andersson has taught courses and presented research papers at national and international conferences and meetings. He served on the editorial board of several medical journals, such as Spine, the Journal of Back and Musculoskeletal Rehabilitation, Orthopaedics Today, and the Journal of the Clinical Orthopaedic Society. He also has written, edited, and contributed chapters to numerous medical textbooks.
Dr. Andersson is a Medical Advisor for Veritas Health, where he uses his expertise in orthopedic spine care to ensure the high quality of its content.
Select Professional Memberships and Achievements
Member, Academic Orthopaedic Society
Fellow, American Academy of Orthopaedic Surgeons
Member, American Orthopaedic Association
Member, North American Spine Society
Past President of Medical Staff, Rush University Medical Center
Past President, International Society for the Study of the Lumbar Spine
Past President, Orthopaedic Research Society
Board Certification
American Board of Orthopaedic Surgery
Education
Cand Med – University of Zurich, Switzerland
MD – University of Göteborg, Sweden
PhD – University of Göteborg, Sweden
Residency – Department of Orthopaedic Surgery, Sahlgren University Hospital, Sweden
Fellowship – Department of Orthopaedic Surgery, The London Hospital
Author profile last updated