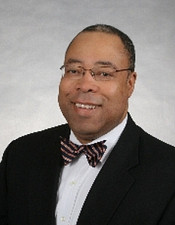 Olumide Danisa, MD
Orthopedic Surgeon
Dr. Olumide Danisa is an orthopedic surgeon and the Chief of the Adult Spine Division at Loma Linda University Medical Center. He specializes in orthopedic and neurosurgical spine surgery and has more than 20 years of experience treating patients with spinal disorders.
Committed to advancing spine research, Dr. Danisa has given several presentations at national and international conferences and sits on the Associate Editorial Board of The Spine Journal. He is as an Associate Professor of Orthopaedic Surgery and Neurosurgery at Loma Linda University.
Dr. Danisa has served on committees on Adult Spine Evaluation and Spine Education for the American Academy of Orthopaedic Surgeons and on Patient Safety and Patient Education for the North American Spine Society. He is an Oral Examiner for the American Board of Orthopaedic Surgery.
Select Professional Memberships and Achievements
Fellow, American Academy of Orthopaedic Surgeons
Member, North American Spine Society
Member, Orthopaedic Research Society
Board Certification
American Board of Orthopaedic Surgery
Education
BA – Biomedical Engineering, Johns Hopkins University
MD – University of Virginia School of Medicine
Internship – General Surgery, University of Virginia Health System
Residency – Orthopaedic Surgery, University of Virginia Health System
Fellowship – Combined Orthopaedic and Neurosurgery in Adult Spinal Surgery, Duke University Medical Center
Author profile last updated